What's So Great About the new 2018 GMC Terrain?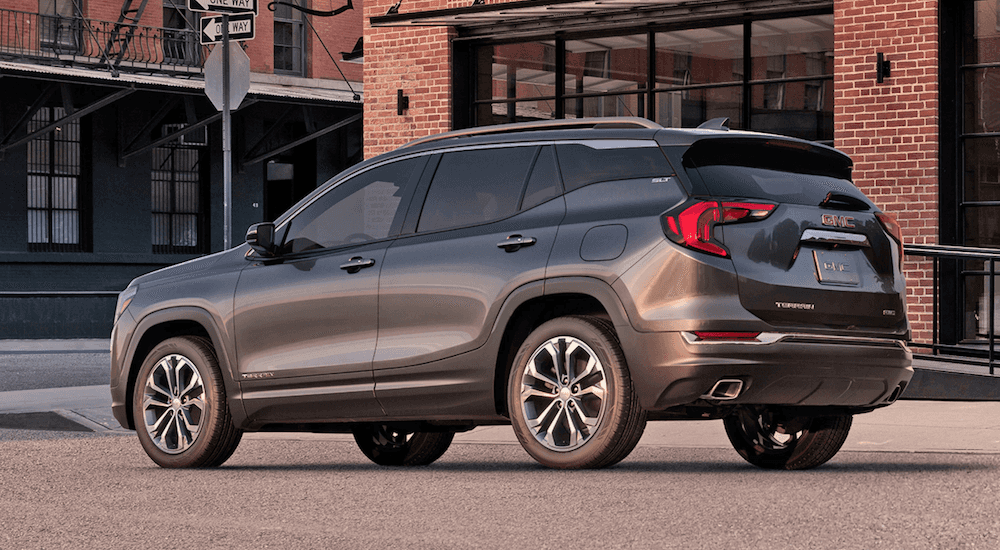 Completely redesigned for the 2018 year, the all-new GMC Terrain is at the top of its class in the compact crossover market. Head to your local GMC dealer today to see for yourself what reviewers are raving about. Perhaps it's the newly redesigned exterior that will catch your eye. Maybe it's the new upscale interior that's designed for comfort and spaciousness that invites you to seek out travel and adventure. Or perhaps it's the technologically advanced features that bring connectivity and safety to the forefront and put the Terrain in a class of its own amongst a wide array of other compact crossovers. Whatever it is, you have to see the Terrain to appreciate it, and your neighborhood GMC dealer, Carl Black Kennesaw, can't wait to show you what you've been missing. 
Redesigned Exterior
GMC's designers have always been a fan of the square looking vehicle, especially when it comes to their SUV line. The newly redesigned 2018 GMC Terrain is no exception to this rule. The square-ish hood and front fascia and almost square wheel well design are typical of a GMC design. However, the new Terrain is not all about the boxy look.
The roofline and overall bodywork also look a bit sportier than recent models. The floating roof that hovers over the rear pillar is a nice addition to the design. A slight taper has been added to the greenhouse and beltline areas that highlights the curved roofline and makes the rear of the vehicle seem smaller and more athletic. The grille has been downsized slightly from last year's model, and it seems like that design decision was made intentionally to move away from the massive SUV look and make the compact crossover feel more like a big car instead of a small SUV.
Whatever the intentions may have been, the result is eye-catching, and people seem to like the new look. The Terrain is available in 8 eye-catching colors and three different interior color options. The new C-shaped LED lighting gives the GMC Terrain a look all its own. The available 19" aluminum wheels add a touch of elegance to an already stunning exterior that is sure to turn heads and leave a lasting impression. 
Travel-Ready Interior
The headroom and legroom in the newly redesigned cabin give drivers and passengers alike a sense of comfort and luxury that is rare in a compact crossover. The cabin itself feels more upscale and reminiscent of a high-end luxury car more so than a crossover. It's intended to sit five adult passengers comfortably, but if you are the unlucky passenger who gets the middle seat in the back row, you may beg to differ. However, if the situation calls for the Terrain to squeeze in five, it is certainly possible, but comfortable seating for four is a lot more accurate and reasonable.
The thoughtful addition of a gadget shelf on the front passengers' side is a nice touch, allowing passengers a nice place to keep their cell phones and other small gadgets in an easily accessible but never in the way location.
The cargo space provided is excellent for a compact crossover, especially with the back seats folded down. 29.6 cubic feet jumps to 63.3 after the fold. An unusual new additional feature expands the 63.3 cubic feet of cargo space to a massive 81 cubic feet if the front passenger seat is folded down as well. Though this is the first time a crossover has thought to expand the storage area to the front cabin, this thoughtful new addition allows long items like surfboards, canoes and lengthy building materials to easily fit into the Terrain when needed. Though this feature may not get much use for some people, surfing enthusiasts traveling solo up or down the coastline may find it to be the single feature that sets the Terrain apart from other vehicles. Even those who think that they will never fold the passenger seat down may find themselves thankful to have the capability one day when they have to tote a large piece of furniture from one house to another. You never know when you're gonna need those extra 18 cubic feet of storage space, but you'll be glad you have them when the situation calls. 
Connectivity and Safety Interwoven into the Design
Connectivity is essential in today's fast-paced world, and GMC seems to know that well. Not only are an array of connectivity features available on the 2018 Terrain, a surprisingly large amount of them come standard in the base model. A 7" touchscreen, Bluetooth compatibility, Apple CarPlay and Android Auto, Onstar 4G LTE, built-in WiFi, and 4 USB ports located throughout the interior are all standard features. That is a pretty nice package at a base level, to say the least. Available upgrades include an 8" touchscreen, HD and satellite radio and navigation, wireless charging, and a stereo upgrade to a Bose package are all on-hand for a bit heavier price tag.
Safety is essential in any vehicle, but especially in a family-friendly compact crossover. GMC has equipped the higher end models of the Terrain to include six safety features that bring comfort and peace of mind to drivers with precious cargo. These features include rear park assist, lane change alert with side blind zone alert, low speed forward automatic braking, lane keep assist with lane departure warning, safety alert driver's seat (which vibrates when there is danger approaching) and rear park assist. None of these safety features come standard on the Terrain, but there is no way to put a price tag on safety and the kind of relief that one feels when they know that their family is secure and protected.  
Conclusion
Your neighborhood GMC dealer, Carl Black Roswell, is proud to offer the newly remodeled and re-envisioned 2018 GMC Terrain. No other GMC Dealer has the knowledgeable staff and skilled technicians that we have on staff at Carl Black, and nobody treats the customer like family like we do. We can't wait to have you test drive the new Terrain and get a first-hand feel for GMC's best compact crossover to date.
At Carl Black, Georgia's finest GMC dealer, we pride ourselves in the way we treat our customers. There are no pressure tactics in the way we sell our vehicles. We simply know the facts about the cars and we present them to you in a friendly, relaxed manner, and let the cars sell themselves. Nothing is worse than being cornered by a pushy salesperson, adding stress to your decision by telling you how people are beating down their door to buy the car you want out from underneath you. At Carl Black, we've got plenty of vehicles on hand to meet your needs, and the last thing we want is for you to feel pressured into buying before you're ready to make the right decision. We are the GMC dealer that Georgian's trust, and we earned that trust by providing excellent service. So, let us be the GMC dealer you call when it's time to purchase a new or used vehicle. We know that once you do, you'll be coming back again and again.