What is the difference between winter and all-season tires?

Although we don't get snow a lot in Georgia, there are still winter seasons where we do get some snowfall. Even when we don't get snow, travelling during the holiday season can mean driving in states where snow is common. When it gets to the winter season, you may have to change your tires. There are winter tires and all-season tires, but they have different purposes. So, what is the difference between winter and all-season tires? Keep reading to find out!
Winter tires versus all-season tires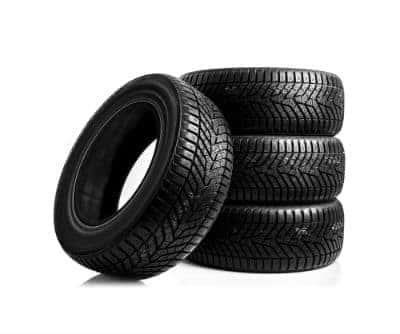 First and foremost, winter tires perform better on snow and icy surfaces than all-season tires. Winter tires have more slits in the tread to increase grip and a tread compound that helps the tire stay pliable in cold temperatures. They also have a different tread pattern than all-season tires. According to Consumer Reports, winter tires have a stopping distance of 30 feet, while all-season tires have a distance of 36 feet. Winter tires also have better grip allowing for faster acceleration.
All-season tires can harden in near to below freezing temperatures which decreases traction. All-season tires are made to work on-road, off-road, in wet conditions, dry conditions, in 100° F and 20° F. They have a high level of puncture resistance for off-road driving which leads to certain durability specifications. These specifications aren't complementary to winter weather traction.
To figure out which tires are for winter, look for the three peak mountain snowflake symbol on the sidewall of the tire. This symbol was created by the Rubber Manufacturer's Association and it means that the tire has been rated for severe snow service. All-season tires will have the M+S marking which stands for mud and snow. This symbol does not measure traction on ice, slush or cold dry roads.
[Read more: How to Change a Flat Tire on Your Vehicle]
Get new tires at Carl Black Buick GMC Roswell
Now that you know the difference between winter and all-season tires, you'll need to buy the right ones. Carl Black Buick GMC of Roswell is the place for you to find tires for your vehicle. Our experts will help you find the exact tires that you need for your GMC or Buick model. Our parts store has parts that are specifically made for your car, truck, or SUV. Visit our website today to order your tires!