Try Something Newish in 2019 with Pre-owned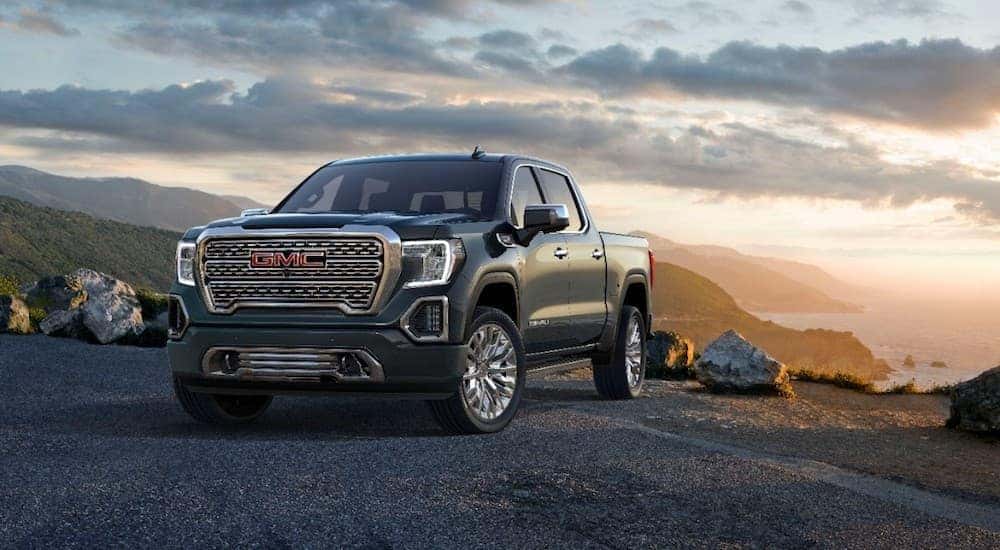 When deciding whether a new or used vehicle is the optimal choice for the new year, our Carl Black GMC near Atlanta dealership has many options for either route. Maybe you've always bought new, or consistently leased to bring down a car payment to meet your budget in the past. To keep the options open in 2019, and for considerable cost savings, our pre-owned Buick and GMCs are an economical choice for finding the perfect vehicle at the right price point. Carl Black Roswell's expansive inventory of pre-owned cars can help qualified buyers receive affordable financing by offering such perks as multipoint inspections, extended warranties and vehicle history reports, and our proximity to Atlanta means we're perfect for you.
Advantages to buying used at Carl Black Buick GMC near Atlanta can start with lower prices, then go from there. Pre-owned vehicles have the preponderance for featuring a wider selection of makes and models, and aren't limited to a current model year's more-expensive offerings. That can help buyers save time and money when searching for a car they can't wait to drive. Used cars can also offer luxury option packages, upscale upgrades and deluxe accessories that may not be affordable in a brand-new model at other Atlanta dealerships. Deprecation isn't as much of an issue, too, since years may have passed since the car was first driven off the lot. And we all know a car depreciates as soon as that happens, luckily the first owner will be dealing with this depreciation much more than any subsequent owners.
Certified Pre-owned Program
Purchasing a Certified Pre-owned car from Carl Black Buick GMC Atlanta provides next-level incentives for buyers that goes beyond the free CARFAX car history report to check for major accidents, emergencies such as fires, and service issues. With each Certified Pre-owned vehicle purchase comes a thorough multipoint inspection to assure parts are working properly, as well as roadside assistance programs for safety and extended 12-month/12,000-mile bumper-to-bumper and 6-year/100,000-mile powertrain warranties. These are all incentives that make buying a pre-owned GMC near Atlanta the best option in saving money and securing the car of your dreams.
Also included with every Certified Pre-Owned GMC vehicle purchase from a participating Chevy, Buick, or GMC dealer is participation in the scheduled maintenance program. This features two includes maintenance visits that can provide oil and oil filter changes, tire rotations and multipoint inspections within 2 years/24,000 miles, whichever comes first. We all know how routines oil changes and inspections can add up, so this program is a plus for the pocketbook. These incentives can really add up as monthly expenses affect a family's yearly budget.
Participating GMC dealerships in and around Atlanta may also offer the Certified Pre-Owned Exchange Program. This is an ideal option for someone who may have a change of heart about a car-buying decision, even down to the color of the car. In short, customers dissatisfied with their Certified Pre-Owned purchase can return their vehicles to the participating GMC dealership within the first three days or 150 miles, whichever comes first. Within that window, consumers can exchange their purchases for another Chevrolet, Buick, or GMC that's well-suited to their preferences. Eligibility for this option includes returning the vehicle in the condition it was purchased in, which means no damage or excessive wear and tear. It excludes fleet and fleet leases, as well as cars used as taxis or transport vehicles so be sure to check with your favorite dealership prior to driving off the lot.
Best in Value
Two GMC automobiles that have ranked high in Kelley Blue Book's Top 10 Best Resale Value are the GMC Canyon and GMC Sierra. These popular, versatile vehicles would make great pre-owned purchases for savvy buyers seeking reliability, adaptability and affordability. The GMC Canyon provides power for towing capability engine with an available 305-horsepower V6 and added turbo diesel. The GMC Sierra offers a slew of options, from the standard Sierra 1500 up to the Heavy duty 2500 and 3500 options. These heavy-duty trucks feature professional grade engineering and even some hybrid options for better fuel economy, which is generally hard to come by in a truck.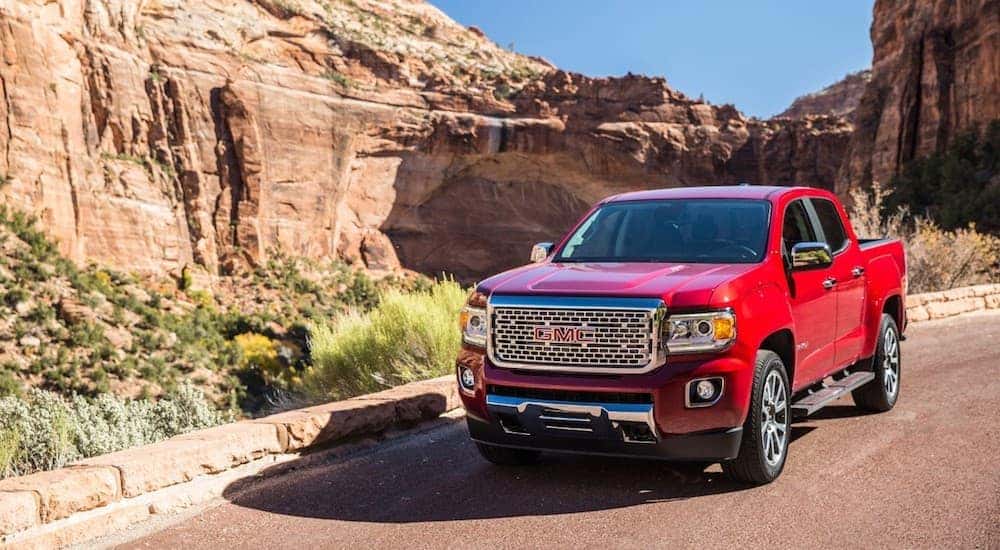 The GMC Canyon compact/mid-size pickup truck is available in two-wheel or four-wheel drive and features the GM EcoTec all-aluminum inline-four engine and 6-speed manual transmission. Optional technology-focused features include available OnStar 4G LTE connectivity with onboard Wifi, as well as lane departure and forward collision warnings. These high-tech connectivity and safety features help drivers feel as if they're driving a brand-new truck, even when it's pre-owned. That includes the new-car smell we all love to experience. An added option parents especially love is GMC's teen driver feature that limits speed and audio volume when driving. That's a win-win for parents and young drivers. The Chevrolet Colorado — Canyon's Chevy cousin, as you may recall — was named Motor Trend Truck of the Year two years in a row, in 2016 and 2015, and continues to be a favorite for pickup fans seeking a smaller, yet rugged, truck. With similar capabilities this bodes well for the Canyon.
The GMC Sierra is a full-size pickup truck that is now in its third generation, so there are many available pre-owned, full-size pickups bearing this popular model name on the used truck market. The Sierra also offers the EcoTec engine in powerful V6 and V8 options, making it the truck for hauling and towing, as well as driving in the city. The newer Sierra models offer GMC/Chevy's user-friendly touch-screen multimedia systems, multiple USB ports, Bose premium audio and optional surround sound systems, and OnStar in-vehicle safety and security system.
The GMC Sierra has won an impressive amount of awards as an industry favorite, most recently the 2018 Motor Trend Truck of the Year Finalist for the GMC Sierra 3500 HD Denali.
Not to mention, but the GMC Acadia, Terrain, and Yukon SUVs have also been known to offer power, performance and reliability that can easily be found from from GMC dealers near Atlanta. Any of of these SUVs make ideal pre-owned vehicles to purchase, especially when it comes to affordable domestic service and repair. Pending on what trims and features you're looking for these costs can really add up, so it's always an affordable option to go pre-owned where you can find quality vehicles for a better price.
Not Your Typical Used Car-Buying Experience
The Carl Black Buick GMC Atlanta difference is found in our high-quality inventory and fair pricing. We make the sales process a positive one with our vast car experience and expert knowledge. Our staff is dedicated to working with each customer on an individual basis. This is truly highlighted when our customers are purchasing a vehicle from our highly trained staff of pre-owned auto sales professionals. We also pride ourselves on our how customers work with our service department for regular maintenance and needed repairs. We want to keep your vehicle running in the best shape possible and will make sure you and your vehicle are taken care of.
With our user-friendly website we make car buying as hassle-free as possible, as users can shop by budget and price range using our available inventory browsing tool. When searching for a specific used car, just use the pull down tabs for year, make, model and price. This way you can have an idea of what you're looking for from the comfort of your own home. You can also start a live chat with the team from Carl Black GMC Atlanta to ask specific questions and find out more information before visiting the dealership in person. If there's a way to make your car-buying experience more enjoyable we use it. So when you've found a great GMC near Atlanta, swing in to Carl Black Roswell and let us see what we can do for you.