How to drive sustainably in Roswell, GA this Earth Day

Tips and tricks for saving fuel and lowering emissions when you drive
How can you drive sustainably in Roswell, GA this Earth Day? There are a few ways you can do your part to cut down on emissions. Keep reading below for our best tips and tricks for saving fuel and lowering emissions when you drive. You can find fuel-efficient vehicles here at Carl Black Roswell in Roswell, GA. 
---
Tips and tricks for maximizing fuel economy
---
List of ways to use less fuel and drive efficiently
Are you looking for a way to make a difference this Earth Day? You can always have a bike-to-work day, but there are plenty of ways to improve your driving habits as well. Check out our ideas for how you can become a sustainable driver this year. 
Fill up your vehicle's tires. First, check if they're at the correct inflation, then fill them up as needed. Having correctly inflated tires can make a big difference in your fuel economy because poorly inflated tires create more drag on your vehicle.

 

Drive a hybrid vehicle. Next time you rent, lease, or buy a car, consider a hybrid vehicle. If not hybrid, then at least pay attention to its fuel economy rating. Higher ratings mean going further on less fuel.

 
---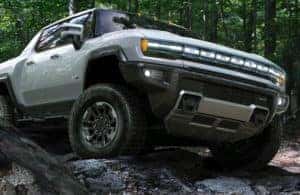 ---
Drive an EV. Electric vehicles like the GMC Hummer EV or the GMC Sierra EV can be found here at Carl Black Roswell. EVs give off zero emissions because they don't run on fossil fuels.

 

Cut back on idling time. When you park outside your friend's house to pick them up, turn off your car's engine. When you're waiting for your partner to run into the store, turn off your car's engine. Whenever you can safely, turn off your car's engine.

 

Take different routes for your usual commutes. Look for routes with fewer stop signs, fewer train crossings, and slightly higher speed limits. Most vehicles will have better highway fuel economy ratings, because stop-and-go, slow driving in a city tends to waste more fuel.
---
---