How does Side Blind Zone Alert work in my Buick or GMC?

Earlier this week we took a look at one of the driver-assistive safety technologies found in your Buick and GMC vehicles. The feature in question was the Forward Collision Alert System, and we gave you the rundown on how exactly the system works. We wanted to do it again for a different feature, so today we're taking a look at Side Blind Zone Alert to give you the rundown. Once again, we're utilizing the 2020 Buick Encore and 2020 GMC Sierra 1500 for the purpose of this blog.
[ READ MORE: How does the Forward Collision Alert System work in my Buick or GMC? ]
What is the purpose of SBZA?
The purpose of the Side Blind Zone Alert system, or SBZA for short, that helps to mitigate the chances of a collision by alerting the driver to other vehicles occupying its blind spot.
How does SBZA work?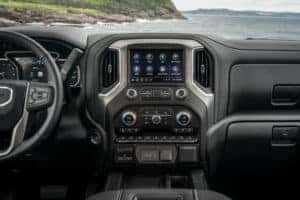 If your Buick or GMC vehicle is equipped with the Side Blind Zone Alert feature, then whenever another vehicle is occupying either one of your blind spots, an icon on the corresponding side's exterior mirror will light up. If you signal with one of your turn indicators while the corresponding side is lit up, it will begin flashing.
When does SBZA work?
A vehicle is considered in your blind spot when it enters the sensor's covered area. These zones start roughly in the middle of your vehicle and extend backward for 16 feet, consisting of an area approximately one lane over (or 11 ft.) and from 1.5 to 6.0 ft. off the ground.
Does SBZA apply pressure to the brakes?
Unlike some other features, SBZA is an alert-only technology. It will not apply any pressure to the brakes under any circumstances, only alerting you to the potential of a collision with a vehicle in either of your blind spots.
It should go without saying, but SBZA and all driver-assistive technologies are not meant to replace your judgment. They are simply there to pick up anything you might not notice, but you should still be completely attentive while driving.