How does the Forward Collision Alert System work in my Buick or GMC?

There are all kinds of great technologies found in your Buick and GMC vehicles. We wanted to spend the next few blogs talking in particular about some of the driver assistance systems and features that are helping to prevent collisions on the road more and more each year. Today, we're going to take a look more specifically at the Forward Collision Alert System, to tell you how to use it and hopefully give you a better idea of how it works. For the purpose of this blog, we're looking specifically at the 2020 Buick Encore and 2020 GMC Sierra 1500, some small aspects may differ in other models.
[ SHOP NOW: New Buick & GMC Vehicle Inventory ]
What is the purpose of FCA?
The purpose of the Forward Collision Alert System, or FCA for short, is to help drivers to completely avoid or, at the very least, reduce the potential harm that can be caused by front-end collisions.
How does FCA work?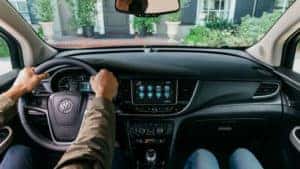 In your Buick or GMC vehicle, the Forward Collision Alert System will send a red flashing light on the windshield to alert you of a potential collision when approaching a vehicle too quickly. The light is accompanied by the sound of rapid beeping. In vehicles equipped with the Safety Alert Seat, like the Sierra 1500, it will also pulse the driver seat. Additionally, the Sierra will provide an amber-hued visual alert while you are following a vehicle too closely.
When does FCA work?
When the FCA system operates depends on the vehicle. For example, in the Buick Encore, FCA can detect vehicles from a distance of roughly 200 feet and operates at speeds over 25 miles per hour. In the GMC Sierra, vehicles can be detected from the same distance, but at speed over 5 mph.
Does FCA apply pressure to the brakes?
The Forward Collision Alert System itself does not apply brakes in any situation. It is an alert system only, meant to bring your attention to the possibility of collisions rather than prevent them itself.
As with all driver-assistive safety technologies, FCA is not meant to replace your judgment but rather enhance it. You are still expected to be an attentive driver, but hopefully knowing how this system works will help you mitigate collisions in the future.