How does Lane Departure Warning work in my Buick or GMC?


It's time for us to look at another one of the great technologies found in your Buick or GMC vehicle. This time, we're going to look at Lane Departure Warning, one of the basic driver-assistance technologies found in many Buick and GMC vehicles. In some vehicles, like the Sierra 1500, you might instead have Lane Keep Assist which takes things a step further. For this article, we're going to focus solely on LDW, specifically the technology found in the 2020 Buick Encore and GMC Sierra Heavy Duty models.
[ READ MORE: How does Side Blind Zone Alert work in by Buick or GMC? ]
What is the purpose of LDW?
The purpose of Lane Departure Warning, or LDW for short, is to help mitigate the chances of a collision from unintentional lane departures.
How does LDW work?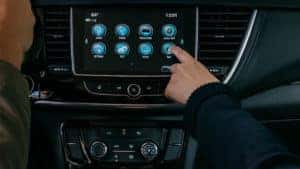 Utilizing a system of cameras and sensors, the LDW system is able to detect lane markings around your vehicle. If the system notices your vehicle crossing a lane without the appropriate turn signal, it will alert you by changing the color of the symbol on your dashboard in addition to three audio cues.
When does LDW work?
Lane Departure Warning works when your vehicle is operating at speeds of 35 miles per hour or more. There's a chance it may not work when vehicles are very close in front of you, as the sensor points out the windshield. Other things that might affect its ability is a sudden change in lighting – like entering a dark tunnel – or when driving on banked roads.
Does LDW take control?
The LDW technology does not deliver autonomy, only working as an alert system. In other words, it will not apply pressure to the brakes or deliver steering assistance.
As always, LDW is not a technology meant to replace your judgment. You should still always remain attentive to your surroundings, utilize your turn signals and check your lanes before changing.