How does Automatic Emergency Braking work in my Buick or GMC?

While the last few technologies we looked at were alert only, today we wanted to look at one of the driver-assistive safety features that does offer to take control in certain circumstances. So, we're looking at one of the most important technologies of all: Automatic Emergency Braking. For the examples in this blog, we're looking at the owner's manual for the 2020 Buick Enclave and 2020 GMC Sierra.
[ READ MORE: How does Lane Departure Warning work in my Buick or GMC? ]
What is the purpose of AEB?
The purpose of Automatic Emergency Braking, or AEB for short, is to help mitigate the risk or severity of front-end collisions.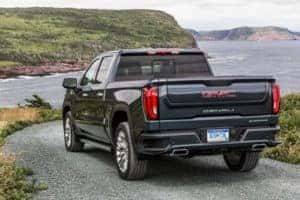 How does AEB work?
Automatic Emergency Braking utilizes the same systems as Forward Collision Alert, taking things a step further to either deliver a braking boost or to automatically brake for you moderately or even hard.
When does AEB work?
The Automatic Emergency Braking system only works when you're operating the vehicle in a forward gear and are between the speeds of 5 and 50 miles per hour, or at any speed above 2 mph if your vehicle is also equipped with Adaptive Cruise Control. The system is capable of detecting vehicles up to 197 feet away from you.
Does AEB take control?
Yes, unlike the other features we've looked at this month, Automatic Emergency Braking does take some control over your vehicle. This control comes in the form of automatically applying pressure to the brakes, either boosting your own efforts or applying it outright if you aren't already applying pressure. The former is made possible by Intelligent Brake Assist, which detects that you're attempting to brake but that the pressure you're using won't be enough.
Even though this technology does apply pressure to the brakes for you, it's still no substitute for your own judgment and abilities. You should still always pay attention to your surroundings while driving and apply pressure to the brakes yourself when necessary.