GMC Yukon Gets a Makeover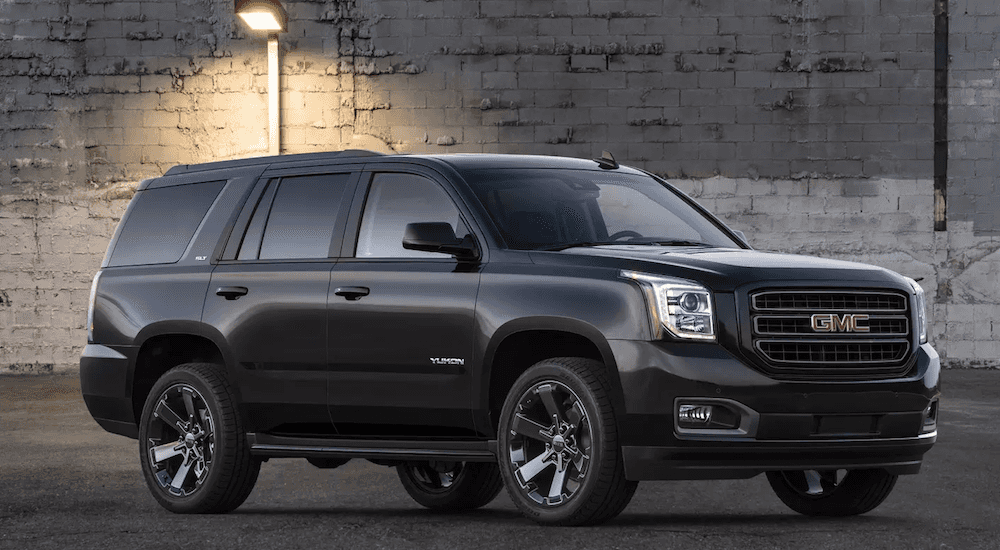 Already known for its upscale design and impressive strength, the GMC Yukon is getting a facelift this summer. The 2019 Yukon and Yukon XL full-size SUVs are rolling off the assembly line in brand new Graphite and Graphite Performance editions, available at your local GMC dealer in late summer 2018. The new look is intended to "infuse a bold new appearance and attitude into the Yukon lineup," according to GMC.
The Back Story
Before you can imagine a future of improvements, it's best to start with the humble beginnings. The GMC Yukon first rolled into dealerships in 1992, making a name for itself from the outset in the full-size SUV segment.
Back in '92, the Yukon was available in rear-wheel drive and four-wheel-drive and delivered 255 horsepower with a 5.7-liter V8 engine. By 1999, in order to compete with Chevrolet, GMC made the switch to a slightly smaller, albeit more powerful engine, and added the upscale Denali trim to its Yukon lineup.
Over the next 15 years, GMC made several improvements to its Yukon line, culminating in the 2015 model year release, which offered updated infotainment systems, shiny new trims, and cosmetic upgrades, as well as a new EcoTec3 5.3-liter V8 engine in an effort to move the line towards a more refined and fuel-efficient future.
Beauty Reimagined
The Graphite Edition is available on two- and four-wheel drive Yukon and Yukon XL models, and builds on the SLT model, which is striking in its own right. The primary features of the Graphite design include three distinct exterior paint colors—Onyx Black, Dark Sky Metallic, and White Frost Tintcoat—and darkened exterior accents. You can also expect a body-color grille, providing that brooding, monochromatic look, and the grille insert and fog lamps trimmed in a black chrome finish. To finish off its sophisticated, polished exterior, the GMC Yukon Graphite Edition rides on unique 22-inch aluminum wheels accentuated with Carbon Flash Metallic paint. But why stop there? Going a step further, the GMC Yukon Graphite Performance Edition adds 22-inch, six-spoke wheels with a gloss black finish. You should probably get used to the stares as you drive by.
Inside, the Graphite Performance Edition builds on the already luxurious interior of the GMC Yukon, adding an 8-inch diagonal Driver Information Center, a Multi-Color Head-Up Display, an 8-inch diagonal GMC Infotainment System with Navigation, Bose speakers with Active Noise Cancellation, and an electronic trailer brake controller.
More Than Meets the Eye
Don't be fooled into thinking this cosmetic upgrade is all the new Graphite edition has to offer. No, this looker is also getting some improvements under the hood, adding several mechanical upgrades to the 2019 model.
The GMC Yukon Graphite Performance Edition is a powerhouse, gaining a 6.2-liter V8 engine and standard 10-speed advanced automatic transmission, delivering 420 horsepower and 460 lb-ft of torque. This combo is usually only available on the Yukon Denali, but the Graphite Performance Edition is making history as the first SLT model available with this incredible powertrain combination.
Also previously only available on the Denali, the advanced Magnetic Ride Control suspension makes its debut on the Graphite Performance Edition as standard equipment. Now you can have the capability of quick, precision handling and comfort, and you'll look good doing it.
Money Talks
While the specifics surrounding the price of these fancy new upgrades have not yet been released, it is safe to assume they won't come cheap. Taking into consideration the entire GMC Yukon line, the least expensive of which has a starting MSRP of over $49,000 sans perks and upgrades, you can be sure the Yukon Graphite and Graphite Performance editions will climb to well over that mark. As a comparison, the Yukon Denali, whose engine and transmission combo finds a home in the Yukon Graphite Performance Edition, has a starting MSRP of $66,200. A similar MSRP would not be out of the question for the Graphite editions.
Worth the Wait
The GMC Yukon Graphite and Graphite Performance editions are slated for release sometime late summer of 2018 as a 2019 year model. If this beauty drives half as good as it looks, it will be well worth the wait.
But, if you're getting antsy just thinking about it, well, it might just be in your best interest to head on over to your local GMC dealer now to take a look. Since the 6.2-liter EcoTec3 V8 engine and 10-speed advanced automatic transmission come standard in the Yukon Denali and Denali XL, you can certainly schedule a test drive in one of those models to get an idea of what being behind the wheel of the Yukon Graphite Performance Edition will feel like.
The GMC Yukon has long made a name for itself as a luxurious yet powerful machine and has dominated the full-size SUV market since its inception. But with a history like this one, you can be sure that anything GMC turns out is sure to turn heads. With its dark, sultry features, you can think of the Yukon Graphite Edition as sophisticated, powerful, brooding, classy, and always makes a statement.
The GMC Yukon Graphite and Graphite Performance editions make their way to your local GMC dealer this summer. Be on the lookout and make sure to schedule a test drive. These beauties won't last long.