GMC: Bringing Generations Together One Vehicle at a Time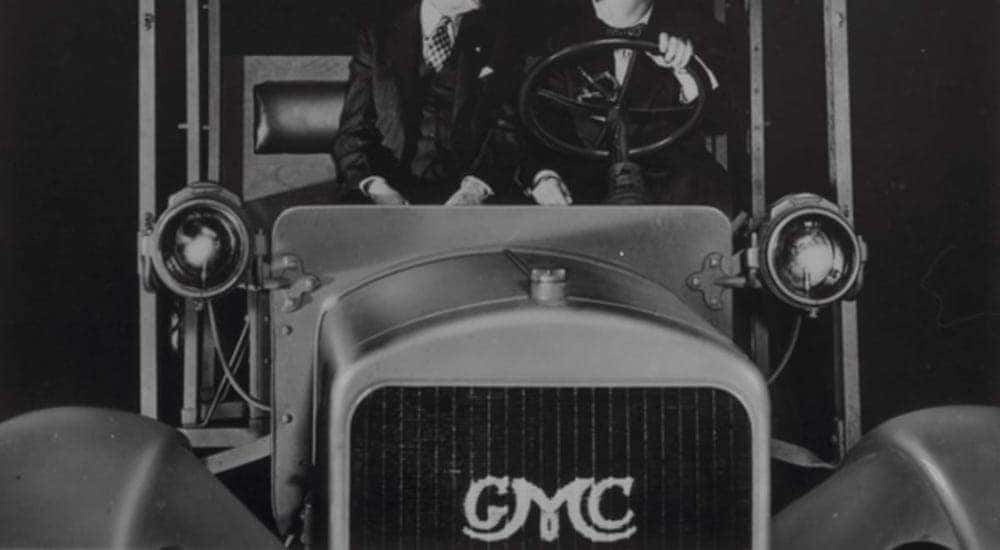 Rome wasn't built in a day, and neither were the GMC dealers and vehicles we know and love today. In fact, GMC has been manufacturing GMC trucks and other tough vehicles for over a century. Just imagine, this means that GMC vehicles are something even your great-grandparents could remember driving. Not only that but with the way GMC can build such passion and innovation into their trucks and SUVs, it is very well possible that even your great grandchildren will have the fortunate opportunity of driving a GMC brand vehicle as well. Their proud past, powerful present, and inspired future has made GMC a manufacturer that has to brighten the connections between generations from long ago and still to come.
The Past
History can show you a lot about a person, place, or thing; the history of GMC is no exception. From the founding to some of their most renowned releases, GMC has a past filled with endless potential and perseverance. 
The Founding of GMC
GMC was founded in Michigan in the year 1902 by Max and Morris Grabowsky. Back than GMC went by the name Rapid Motor Vehicle Company which created some of the first ever trucks. It did not take long for the automotive giant General Motors (GM) to show interest, and in 1909, less than a decade in, the two companies along with Reliance Motor Company joined together. Clearly, this meant a name change for Rapid Motors, and so they became General Motors Truck Company, or as most know them today, GMC.
Before General Motors
Before GMC was even a whisper of a thought, Rapid Motor Company and Reliance produced many trucks that would be known as the trucks that lead the way. Here are a few examples:
Rapid Model A was the first truck for Rapid Motor Company and came in several cargo bodies and a 12-passenger bus model. The engine was a 2-cylinder engine which produced only 22 hp. 75 of these were sold in the span of two years.

Rapid Model B was next and built as a panel delivery truck called the "Power Wagon." This model offered a 2-cylinder engine with only 15 hp engine and was priced at, wait for it, $1,250.

Rapid Model C was a delivery wagon built in 1906 which had a capacity of 1 to 1½ ton.

Rapid Model D was built in 1907 and only cost $1,550. It also introduced a buggy top over the driver's seat.

Rapid Model E in 1908 offered the first partially enclosed cab.

Rapid Model F in 1909 offered 28 different models some of which were designed to have the engine under seats instead of under the hood.

Rapid Motor Company had their trucks travel down literally the roughest roads and climb peaks never believed possible before. They may have become GMC in name, but their passion still lives in their legacy.
The Historical Highlights
Once GMC was officially in motion, they never stopped producing the best of the best even in the worst of times. Here are some of the highlights you shouldn't miss out on:
1913 GMC 2 Ton Pickup
This was the very first model to have GMC's signature nameplate on it; proof that the rebranding had begun.
1927 GMC Cab Chassis Two Ton Tanker
This is where GMC took a step forward in the quality of appearance for their trucks. Chrome-plated radiator with headlights attached to it offered a bolder design, while the fender also got its stylish upgrade.
1936 GMC Half-Ton Pickup
More design increases including better paint options, sloped grille, and even passenger cabs giving GMC dealers a more mass appeal.
1939-1950 The War Effort
This was a tough time in the life of all automotive dealers as war required their constant service. Very few if any GMC vehicles were sold to civilians at this time as all focus was on supporting the troops overseas. GMC did, however, produce over 500,000 trucks for the war effort and displayed its honest, hardworking, and innovative spirit.
1948 GMC FC101 Half-Ton ST SP 715
As World War II was coming to its end, GMC got back on the fast track to innovation city. This model, in particular, had the first fully integrated headlights for trucks and a lower, wider, and bolder grille.
1955 GMC 100 Series Deluxe ST CT208
This is the truck that started GMC on the track to comfort along with performance. Offering an ever increasing number of driver comforts like never before, the CT208 is the first truck with modern convenience as seen today
1960 GMC Model 1000 Half Ton Wide Side ST
This model kept things moving forward with a full-width hood, jet pod grille, and pinched-wasted body creases.
The Present
Sierra
Although 1976 may not be what most would consider the present, this is where we can first trace back the start of the legendary GMC Sierra that we still admire today. Starting out as the 1976 GMC 2500 Sierra Classic 3+3 Crew Cab Wideside. This was the vehicle for anyone who dreamed of owning a vehicle with raw towing ability. Throughout the years the Sierra got its own series of pickup trucks and had its own list of trilling trims including the always pleasing Denali.
Here are some stats from today's GMC Sierra 1500:
MSRP: starting at $29,000

Horsepower: 285 to 420 hp

Torque: 305 to 460 lb-ft

Towing Capacity: 7,500 to 12,500 lbs.

Dimensions: 205-239″ L x 80″ W x 74″ H
Canyon
Today the GMC Canyon is a straightforward midsize pickup truck and is the only new GMC truck in opposition to the Sierra.
Here are some stats about today's GMC Canyon:
MSRP: starting at $21,100

Horsepower: 181 to 308 hp

Torque: 191 to 369 lb-ft

Towing capacity: 3,500-7,000 lbs.

Dimensions: 212-225″ L x 74″ W x 70-71″ H
SUVs
The current GMC also offers a respectable lineup of SUVs that from smallest to largest in size include the GMC Terrain, GMC Acadia, and the GMC Yukon. All are stylish options and high in luxury and utility features.
Here are some stats for all three current models:
Terrain
MSRP: $24,995

Horsepower: 137 to 252 hp

Fuel Economy: 39 highway

Towing capacity: 1,500 to 3,500 lbs.

Dimensions: 182″ L x 72″ W x 65″ H

Seating: 5
Acadia
MSRP: $29,000

Horsepower: 193 to 310

Fuel Economy: 26 highway

Towing capacity: 1000-4000 lbs.

Dimensions: 194″ L x 75″ W x 66″ H

Seating: 5-7
Yukon
MSRP: $49,100

Horsepower: 355 to 420 hp

Fuel Economy: 23 highway

Towing capacity: 6,300 to 8,400 lbs.

Dimensions: 204″ L x 81″ W x 74″ H

Seating: 9
The Future
Whether you find GMCs past and present to be intriguing or not, there is one thing that clear; this is only just the beginning. With models like the 2019 GMC Sierra looking better than ever with a carbon fiber bed and transforming tailgate and more to come, the only future that anyone should see for GMC is a bright one.
Carl Black of Roswell is a GMC dealer that takes pride in the history of the manufacturer we support. Just like GMC, we as a GMC dealer want to keep our community strong for a long time to come so that we too can bring generations together one vehicle at a time.