What's New with the Latest 2018 Buick SUVs?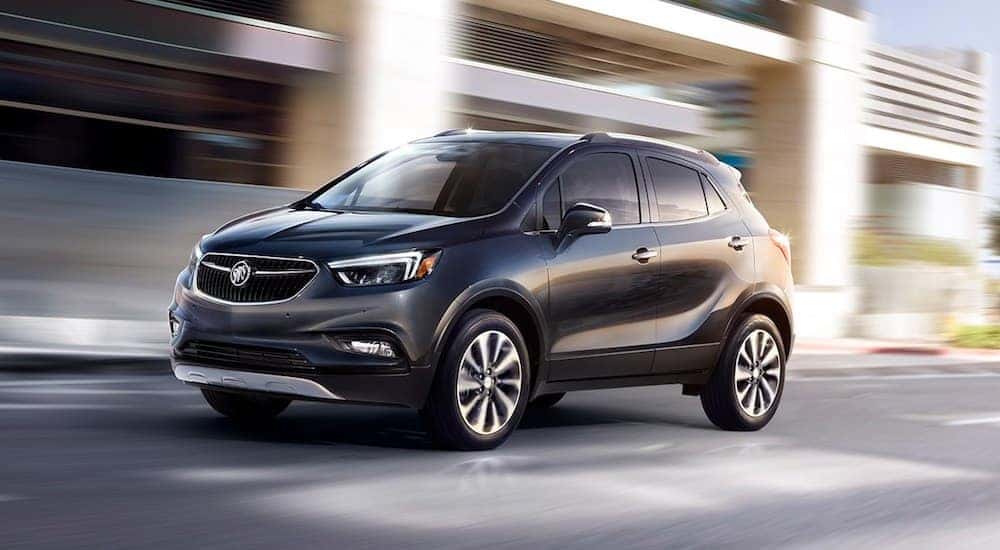 If you're looking for a new SUV and are bored with the latest models out there, then look no further. In 2018, Buick has produced three top-of-the-line SUVs that are leaving their competitors in the dust. From excellent fuel economy to superior power and performance, as well as some futuristic high tech interior features, the 2018 Buick SUVs collection defies stereotypes.
The three latest Buick SUV models are the 2018 Buick Enclave, the 2018 Buick Encore, and the 2018 Buick Envision. All three models have a refreshing new design with a sporty exterior and luxurious interior you just won't want to get out of. We'll take a look at the three latest SUV models and reveal why all three are the pinnacle of the 2018 SUV market.
2018 Buick Enclave
Interior
The 2018 Buick Enclave is a luxury vehicle with some fantastic extras that truly make the interior space special. This Buick SUV is available with premium leather seating, warm wood features, and comfortably seats up to seven adults. In addition, with a convenient push of a button you can lower and raise the back third row and create optimal cargo room for any gear, groceries, or cargo you may have.
This vehicle is also equipped with Buick QuietTuning technology, which uses triple door sealing to quiet outside noise. Whether you're on the freeway or out in the city with a lot of traffic, you won't have to fight to hear each other or hear your music over all of the outside noise.
In addition, the engineers at Buick know staying connected is a top priority in the 21st century – from staying connected with your kids, to being available for work, Buick has designed this SUV to cater to all of your connectivity needs. The 2018 Buick Enclave is equipped with a built-in WiFi hotspot, so you'll never be without service, a Buick Infotainment System which gives you access to navigation, hands-free calling, and music, as well as a mobile app so you can remotely start your vehicle right from your smart device.
Safety Features
We know you want to feel safe and in control in your vehicles, and the Buick engineers have manufactured this SUV to take the wheel for you whenever you're in a dangerous situation. The 2018 Buick Enclave features such safety technology as low speed forward automatic braking – which brakes the vehicle for you if a collision is imminent, forward collision alert, and front pedestrian braking, among others. This vehicle takes vigilance to the next level, and you can remain calm and safe in your vehicle knowing there's an extra set of steps in place to keep you and your family as safe as possible.
Specs and Performance
Gone are the days when large vehicles meant poor fuel economy. The 2018 Buick Enclave gets a fantastic 26 mpg on the highway and is equipped with a V6 3.6L Engine with 310 horsepower. This Buick SUV also includes intelligent all-wheel drive, start/stop technology to conserve fuel, as well as a 5-link rear suspension to help you handle any bumps or harsh terrain.
2018 Buick Encore
Interior
The 2018 Buick Encore is a smaller, compact SUV that seats up to five adults. This is the perfect SUV for those who don't need as much space, but still want the cargo room for any of their storage needs. This Buick SUV includes black leather appointed luxury seats, a leather-wrapped steering wheel, dual climate zone, and foldable second row and passenger seats to accommodate cargo of all shapes and sizes.
Like the 2018 Buick Enclave, this vehicle also includes the same connectivity and QuietTuning technology to keep you and your family connected and happy.
Safety Features
The 2018 Buick Encore has received a 5-star overall safety rating and comes equipped with ten standard airbags. This Buick SUV is also equipped with a suite of safety features such as side blind zone alert, forward collision alert, and lane departure warning. In addition, all Buick SUVs are available with OnStar for emergency services and roadside assistance.
Specs and Performance
With many excellent performance features, the 2018 Buick Enclave is a refreshing new take on the SUV.  Equipped with a 1.4L turbo engine, with 138 hp and 148 lb-ft of torque, this compact SUV still has the power and performance to get you where you need to go.
In addition, the 2018 Buick Enclave is equipped with a StabiliTrak Stability Control System which helps you maintain control of your vehicle at all times, even during sharp turns at high speeds. All-wheel-drive and maneuverable handing make this vehicle a standout in the SUV market.
2018 Buick Envision
Interior
The 2018 Buick Envision has a high class, luxurious interior that you won't want to leave. With a modern black interior, premium leather seats, and chrome accents, this is truly an SUV of the future. This 2018 Buick SUV has unique, new designs such as a dual winged center console, providing easy access for both the driver and passenger.
The 2018 Buick Envision also has high tech connectivity options such as an 8-inch touchscreen display that connects with Apple CarPlay, instant access to navigation, and can connect to a number of other apps and services.
Safety Features
Safety features on the 2018 Buick Envision include rear cross traffic alert, safety alert seat – which pulses the seat to signal the direction of an incoming hazard, lane keep assist, as well as a number of other high tech safety features designed with optimal safety in mind.
Specs and Performance
The 2018 Buick Envision is available with two engine options: the 2.5L DOHC SIDI engine, or the 2.0L turbo engine, both of which deliver a powerful and premier performance capability. This Buick SUV features adaptive cruise control, which means you can set an interval between you and the car in front of you so you will not have to keep maneuvering in and out of cruise control during your drive.
When it comes to SUVs, Buick has the manufacturing, safety and tech features, as well as the power and performance to deliver the best vehicles in the market. Have any questions about the latest Buick SUVs? Give Carl Black Roswell a call today and we'll be more than happy to help you!