Value and Performance – The Best Trucks for Sale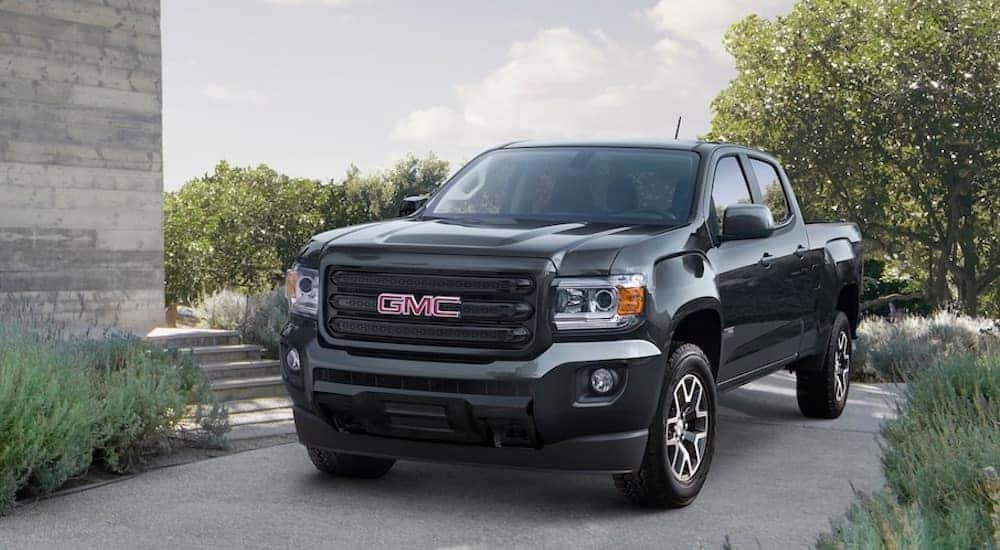 Pickup trucks permeate the culture in the South. And it isn't just a rural thing, either. Even those who consider themselves city folks have a love for the American pickup truck. Yes, even in large cities like Atlanta, pickup trucks can be found on city streets and urban highways. If you are looking for quality new and used trucks for sale, Carl Black GMC Buick in Roswell has dozens and dozens to choose from.
The modern pickup truck serves as far more than the utility vehicle it served our 20th-century ancestors. It has come from being primarily found on farms to being used by all walks of life. Modern technology has turned all of our vehicles into homes on the road, so to speak, and pickup trucks are certainly not an exception. They can be large enough to be a dependable family vehicle, they can be strong enough to handle workloads from the farm to the inner city work site, they can be the perfect vehicle for a weekend excursion to the lake or the cabin in the woods.
So, whether you are away from the city or smack dab in the middle of it, modern pickup trucks can fit any lifestyle just perfectly. Take a look below at just some of the new and used trucks for sale at Carl Black Buick GMC in Roswell, then head over to see these trucks in person.
2019 GMC Canyon
The 2019 GMC Canyon is this model year's GMC mid-sized pickup truck offering. Starting at $21,400 MSRP, the 2019 GMC Canyon is very competitive in its field, and not just because of its low price.
One of the things that makes the 2019 GMC Canyon is the six different trim levels. With more trim levels than comparable vehicles, this truck is highly customizable. These trim levels include the SL, Base, SLE, SLT, All Terrain and, of course, the Denali. Since almost all of these trim levels (with the exception of the SL) can come in different body styles, the 2019 GMC Canyon can come in dozens of different configurations.
And all that is before the different packages available. For example, the X Package is great for outdoorsy people. It contains a spray-in bed liner and Goodyear all-terrain tires. This strengthens the structural integrity of the bed and puts better performance tires on the truck. The Driver Alert Package adds very valuable safety features, such as lane-departure warnings and forward collision. These features can help keep even safety-conscious drivers safer on the road.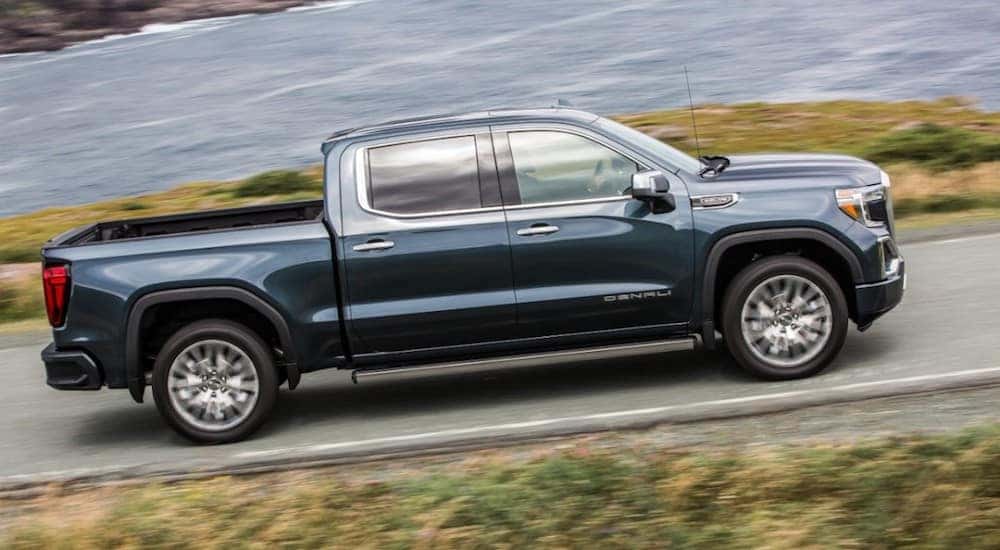 2019 GMC Sierra
Here at Carl Black GMC Buick in Roswell, we have the 2019 GMC Sierra 1500, 2500 and 3500. While they are similar trucks from the same line, they serve very different purposes. The Sierra 1500 base model comes standard with a V6 engine, 285 horsepower and 305 lb-ft of torque. It can haul up to 1710 pounds and tow around 7000 pounds. This truck is perfect for daily use and for those with lighter loads.
On the higher end of the spectrum, the Sierra 3500 is better suited for those with bigger workloads. Its standard V8 engine can get 360 horsepower, 380 lb-ft of torque and can haul more than 4600 pounds. Its towing capacity tops out at 13000 pounds, which is plenty of power and towage, even for those with high towing demands.
In the middle is the Sierra 2500. This truck is very similar to the 3500 in terms of performance. It doesn't quite reach the hauling payload, coming in at 3379 pounds of hauling muscle. However, it does get better gas mileage. If the 1500 isn't quite enough, but the 3500 has a little too much punch for your needs, the 2500 is well worth considering.
Used Trucks For Sale
Carl Black GMC Buick in Roswell also has dozens of pre-owned trucks for sale, including those outside of our signature GMC trucks. These pre-owned trucks come with certification of inspection for performance and safety, and are all verified road-worthy. Some of them are quite new, as well, with considerably less mileage than one might think. We will take a look at just a few of these below, then you can come and look at these beautiful, hard-working trucks in person.
A prime example of a quality used truck would be the 2010 Chevy Silverado. There is a reason this particular nameplate is considered one of the longest lasting trucks on the road. Even at eight years old, this truck still has a lot of miles left in front of it. It features a V8 6.0-liter engine that can pull up to 366 horsepower. It comes with the iconic Z71 package and features both stability control and traction control. These safety features allow the driver to maintain control of the truck when road conditions are less than ideal or when the truck begins to get away from the driver.
Next up is a 2011 Toyota Tundra. Priced affordably as a used truck, it offers a great value for those shopping for a used truck for sale. It features a V8 5.7-liter engine that gets 346 horsepower. It features tons of airbags all over the cabin, including not only front airbags for the driver and passenger, but also side and knee airbags for both. It also has head curtain airbags for the front and rear seats. Additionally, it features trailer sway control. In the event that the trailer begins to get out of the control of the driver, this feature helps to stabilize the trailer and keep it in line safely behind the truck.
Lastly, we often have a used Nissan Frontier. These trucks can feature four full-size doors and a 4.0-liter V6 engine with 241 horsepower. It, too, features airbags for front and rear passengers. The rear seat is a 40/20/40 split bench, but the front seats are cloth bucket seats. These seats are far more comfortable than the bench seats found in many trucks. When found with low miles these trucks can offer a great value in a mid-size pickup truck for those that don't need the size or the power of a full size.
Carl Black GMC Buick in Roswell
At Carl Black in Roswell understand the appeal of pickup trucks in the Atlanta area. We also understand the wide range of uses these versatile vehicles perform. Once seen as only a utility rural vehicle, the pickup truck has now become a viable family and everyday automobile. Not only that, there are literally dozens of trucks for sale, all with varying trim levels and different packages, for thousands and thousands of possible variations.
So, if you are one of the many Atlanta-area drivers looking at trucks for sale, stop by Carl Black GMC Buick in Roswell and check out our new and pre-owned trucks. We have beautiful, brand new 2019 GMC Canyons and 2019 GMC Sierras for sale, and nearly 50 more pre-owned trucks of other varying makes and models.
Our sales staff is here waiting for you. We are an honest, knowledgeable bunch who excels in getting you the best truck possible. Our finance department is committed to getting you the best deal available, whether you are looking to lease or buy.
Until you can make it down in person, you are invited to check out our online showroom. You can check out all the new and pre-owned cars, trucks, and SUVs we have available at Carl Black GMC Buick. We are waiting for you!