The Ultimate Choice for Your Buick Dealership in GA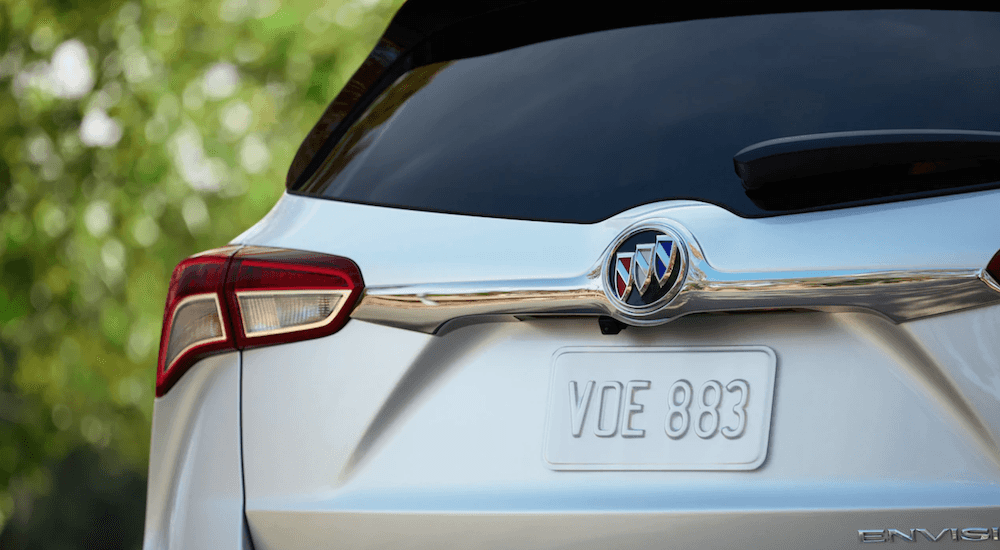 At Carl Black Roswell, we strive for excellence in everything we do. That's why we put particular emphasis on always offering top quality Buicks to our customers. We know that the average Buick owner expects a little something extra from their car buying experience and won't accept anything less than the best. When you step into this Buick dealer in GA, you can expect to be treated like family and shown all the respect you deserve. Other Buick dealers in GA have nothing on us. Our team of professionally trained staff at Carl Black Roswell will listen to your needs and help guide you toward the right vehicle for your family. We want you to drive off the lot with satisfaction and knowing that you can trust us with your vehicle service needs for years to come! Everyone that steps into our showroom we consider to be our neighbor, and we want to prove to you why our Buick dealership in GA should be your final choice for a Buick dealership period.
Finding us to get a test drive or speak with our highly knowledgeable staff is easy. You can find us just north of Atlanta, GA on Alpharetta Highway. If you stop in to check out our selection of inventory, we guarantee you won't be disappointed. At any one time, we have over 500 vehicles in stock! That's right, 500! From that selection alone you're sure to find the right vehicle. Our cars range from new, used, and Certified Pre-Owned and we stand behind them with full confidence. All our vehicles are ready to be driven off the lot and start their new life with your family. We know that the car buying experience can be stressful, but with our selection, trained team of sales and finance staff, your experience will be exceptional, to say the least.
Other Buick Dealers in GA Can't Compete with Our Selection of New Vehicles!
If you're in the market for a new Buick to add a little luxury to your daily drive, you've certainly come to the right place. At Carl Black Roswell, we have a vast selection of Buicks as well as GMCs and other brands of vehicles just waiting to be test driven and waiting for you in our lot! New Buick models like the 2019 Buick Encore, the 2019 Buick Envision, and the 2019 Buick Regal are some of our most popular vehicles that our clientele stop in to test drive. Here's a little more information about these popular Buick vehicles:
The 2019 Buick Encore
The 2019 Buick Encore is an excellent subcompact SUV with a cabin constructed from high-quality materials and featuring comfortable seating and a plethora of standard equipment. You'll get things like Apply CarPlay and Android Auto as well as a supremely smooth ride quality with this vehicle. Everything about this SUV is tuned for quality and you'll even get above-average fuel economy as an added bonus. The 2019 Buick Encore has a maximum cargo volume of 48 cubic feet and the standard turbocharged 1.4-liter four-cylinder engine makes 138 horsepower. When FWD is equipped, expect to get about 26 MPG in the city and 31 MPG on the highway. If you're looking for a great subcompact SUV for everyday driving and to transport your family on their next adventure, this might be the perfect vehicle for you.
The 2019 Buick Envision
If you're in the market for something even more luxurious than the Encore, consider the 2019 Buick Envision. This luxury compact SUV delivers roomy comfort and many user-friendly tech features. You can expect to get between 20 – 22 MPG in the city and between 25 – 29 MPG on the highway. You'll get the option of equipping the standard 197-horsepower four-cylinder or the upgraded 252-horsepower turbocharged four-cylinder engine for added power. Both engines are available in AWD or the standard FWD. If you want to drive your family around in luxury and style, you should come down to our Buick dealership in GA for a test drive today!
The 2019 Buick Regal
The 2019 Buick Regal comes as a Sportback, the Regal GS, and as a wagon, the Regal TourX. With either of these body types you'll get swift acceleration and plenty of cargo space to store your sports equipment or groceries, whichever you need the room for.  The Sportback is essentially a hatchback vehicle with an outward swinging rear door for easy cargo access. You'll get a cavernous 60.7 cubic feet of cargo space in the Sportback and 73.5 cubic feet in the TourX. The standard engine in all the GS trims of the 2019 Buick Regal is a 2.0-liter turbocharged four-cylinder engine that makes 250 horsepower. You'll get between 19 – 22 MPG in the city in the Buick Regal and 27 – 32 MPG on the highway.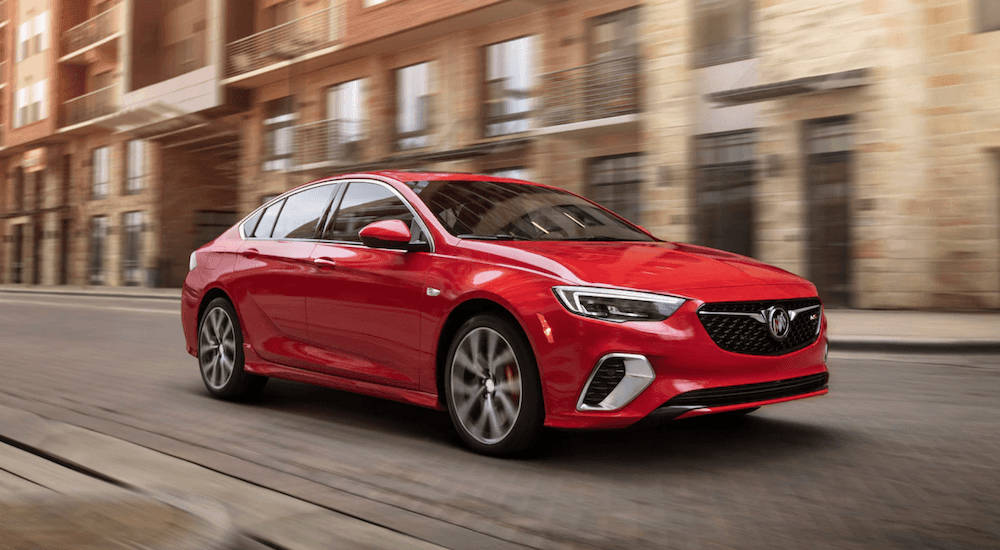 Used Cars
At Carl Black Roswell, we don't only offer a fabulous array of new Buicks, we also sell a fantastic selection of used vehicles. If a new car isn't right for you, this Buick dealer in GA has got what you need! We have plenty of used cars to select from, which include Certified Pre-Owned (CPO) vehicles from Chevrolet, Buick, and GMC. We also have two other locations in Georgia to help find you exactly what car you are looking for. Whether you are looking for used trucks for sale in Hiram, GA or used cars for sale in Kennesaw, GA we have you covered. All of our used vehicles provide amazing value and will give you confidence in your final decision without breaking the bank. All Certified Pre-Owned vehicles at our dealership in GA are thoroughly vetted and undergo a 172-point vehicle inspection and detailed reconditioning process before we put them up for sale. Because we pay such careful attention to our CPO vehicles, all our CPO cars come with two General Motors-backed factory warranties! No matter if you choose a CPO car or another used vehicle at our dealership, we want you to be as confident in our used vehicles as we are. Rest assured that any used vehicle you purchase from us will serve you well for years to come.
Our Finance Department is Second to None
Other Buick dealers in GA can't hold a candle to our exceptional finance staff at Carl Black Roswell. Our finance department is highly trained and ready to help you achieve your new car goals! They will pay you the level of individualized attention you need and will listen to your specific situation to help you determine what financing options are right for you. Making the decision to buy a new or used car shouldn't be made lightly and our finance department will guide you along the process so that you can be sure to be fully certain before making a final decision. Our team will help you navigate any current specials and calculate monthly payment costs to make sure the vehicle you have in mind fits in with your budget. If you're eager to get started, you don't need a pre-arranged appointment to get the process started. All you need to do is stop into our showroom on Alpharetta Highway and we'll get you started!
Service
Our dealership is different from many others in that we want to build a lasting relationship with you. We know that customers who are happy with their car purchases will come back to us for service and routine maintenance for years to come. At our dealership, the service department is fully staffed with highly trained and certified professionals who are ready to put their expertise servicing your car. Our technicians are all GM-trained and certified, so you know that they know how to work on your vehicle. Check out our current service menu to see pricing and to schedule an appointment!