Find Your Next Vehicle at GMC Dealers in Georgia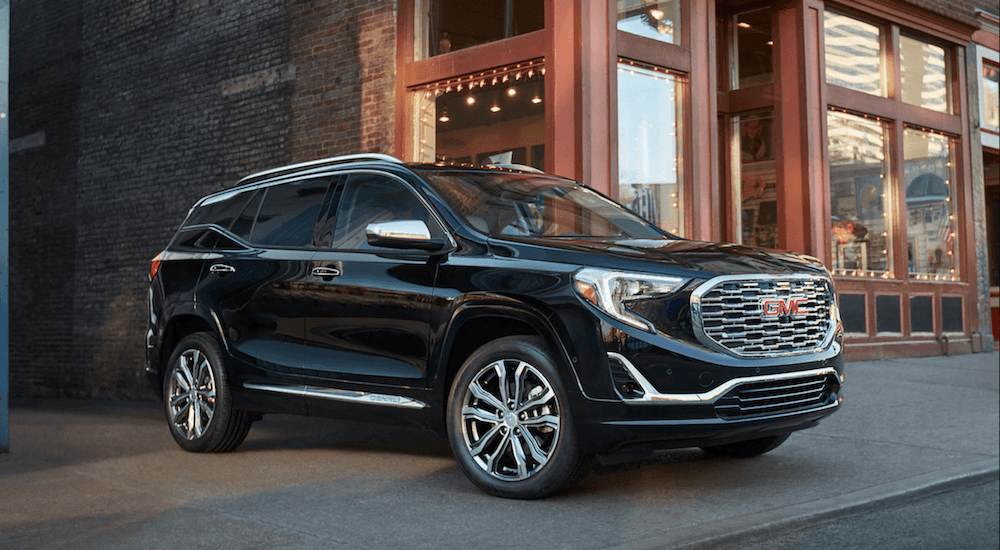 We know that it can be difficult to figure out where to purchase your next vehicle when looking at a map showing seven nearby GMC dealers in GA. Let Carl Black Roswell be the dealership to help you find your next GMC vehicle.
The car buying process can be daunting. You have to figure out what type of vehicle you want, compare prices, do online searches, set your budget, and find the right dealership that can help you get the ideal car for your lifestyle and driving needs. It's important to diligently research vehicle options so you know you are getting the right car and don't end up with buyer's remorse because you made a bad decision.
Buying or leasing a vehicle is a huge decision that shouldn't be entered into lightly. Most likely you'll keep the car for several years, whether for the duration of a lease or length of a loan. Take the time to find the perfect vehicle for you with regard to the style, interior space, storage area, fuel economy, performance value, and a variety of other factors that fit your current lifestyle.
Quality Service at GMC Dealers in GA
If you want to find your next vehicle at GMC dealers in Georgia, keep reading for more insight to help you on your car buying journey. At Carl Black Roswell, we aim to provide superior customer service, so you can find the next vehicle that is perfect for your current driving needs.
We all have different lifestyles and driving needs. Some of you need an SUV for your family or may prefer driving a truck for towing and hauling needs. Don't let the prospect of shopping for a new GMC stress you out. We know that you have questions about how GMC dealers in Georgia can help you find your next vehicle. We are prepared to answer those questions and get you started viewing our inventory online or at our location in Roswell.
As you peruse our inventory, feel free to let us know when a GMC vehicle catches your attention and we will happily schedule a test drive when it is convenient for you. Whether you are looking for a new GMC or used model, we have the right one for you. All of our used vehicles are high-quality and have been through extensive inspections to ensure that you are only getting the best quality. We know you have high standards, we do too. All of our vehicles will meet those high standards and deliver the superior quality you are looking for in a vehicle.
Vehicles Available at GMC Dealers in Georgia
If you want to have more interior seating and storage space in your vehicle, then an SUV is the right choice for you. SUVs are larger than crossovers and weigh more, so they are safer if you get in a head-on collision. If you need towing capacity, then you'll like having an SUV. You can easily transport a motorcycle or other fishing or camping equipment for your next outdoor excursion. Many SUV's come with skid plates, so they work well in off-roading conditions as well.
Some GMC SUVs to consider:
2019 GMC Acadia – This SUV has a starting MSRP of $29,000. This all wheel drive SUV has a 22-gallon fuel tank, and when driving in the city, you'll get an estimated 21 MPG and 26 MPG on the highway. The dead weight hitch maximum trailer weight for the Acadia is 4,000 pounds so you'll be able to bring whatever you need for almost any trip. This SUV delivers 310 horsepower for superior performance value, which you'll definitely feel. It is a great SUV that seats up to seven people, depending on the trim level and seating arrangements. You and your passengers will love the comfortable interior space as well as all the entertainment features.
2019 GMC Yukon – If you prefer a larger SUV, then the Yukon is better for your driving needs. The Yukon can seat up to 9 people has a starting price of $49,600 and the higher-end Yukon Denali is available for $66,700. The new and innovative EcoTec engine options deliver superior power and you'll love the generous interior space that will make the drive more comfortable for you and your passengers. The SUV provides great storage capacity and enough cargo room for just about anything. The upgraded Yukon Denali sports a dynamic looking three-dimensional grille, sleek chrome accents, 22-inch wheels, and HID projector beam headlights to give it an extra level of luxury.
Maybe driving a truck is more your style. With the strong frame and body of these vehicles, they will keep you safer in the event of an accident as opposed to driving in a smaller car. Plus, you will benefit from a better view of the roadway since trucks sit higher than standard cars or crossover vehicles. If you're worried about driving in inclement winter weather, then you may want to consider buying a truck since they can more easily handle snowy, rainy, and hail conditions, while keeping you safe. If you need a vehicle for towing or recovery efforts, then you definitely want to get a truck.
Some GMC Trucks to consider:
2019 GMC Sierra 1500 – This truck starts at $33,500 and gets approximately 20 MPG in the city and 23 MPG on the highway. It delivers up to 420 horsepower and has a towing capacity up to 12,200 pounds. It features an industry-first GMC MultiPro Tailgate, so you can more easily and quickly load and unload the cargo box.
2019 GMC Canyon – The Canyon is a smaller pickup compared to the Sierra 1500. However, you'll still benefit from 308 horsepower and towing capacity up to 7,700 pounds. The starting price is $21,500. The truck gets 20 MPG when driving in the city and 30 MPG on the highway, making it incredibly fuel-efficient for a truck.
2019 GMC Sierra Denali 2500 – With the Sierra 2500 Denali, you'll benefit from a maximum payload capacity of up to 3,233 pounds and can tow up to 13,000 pounds. There is also a maximum fifth-wheel/gooseneck capacity rating up to 15,400 pounds. You'll love the premium seating with heated, ventilated, and perforated leather-appointed front seating that is sure to make your on and off-road driving experiences more enjoyable and extremely luxurious.
2019 GMC Sierra Denali 3500 – If you want maximum luxury, trailering and payload capacity then the Sierra 3500 Denali is what you're looking for. You'll be able to transport a payload up to 6,112 pounds and have a maximum conventional trailering capacity is up to 20,000 pounds. The maximum fifth-wheel/gooseneck rating increases this up to 23,100 pounds. Both the 2500 and 3500 have the premium seating, as well as available 4G LTE Wi-Fi so you can easily connect to the internet wherever you go.

Carl Black Buick GMC in Roswell – The Best GMC Dealer in GA!
Since you've made it to our site you should know that we are here to help you succeed in the car buying process—whether you are ready for a new or used car or looking to lease something from our expansive inventory. Check out our website and other resources to peruse the current inventory to see which vehicle might be ideal for you. We hope to meet you soon and help you find the right GMC that will fit your lifestyle and be the reliable vehicle to get you where you need to go. So if you're looking for GMC dealers in GA then know that at Carl Black Roswell our professional sales team is ready to serve you and answer any questions that arise. You'll also receive superior service from our onsite service center when needed and we can make a maintenance schedule to keep your vehicle running and great and last as long as you need it. Come check us out, you'll be glad you did.