Carl Black Roswell: Your Home for Buick and GMC SUVs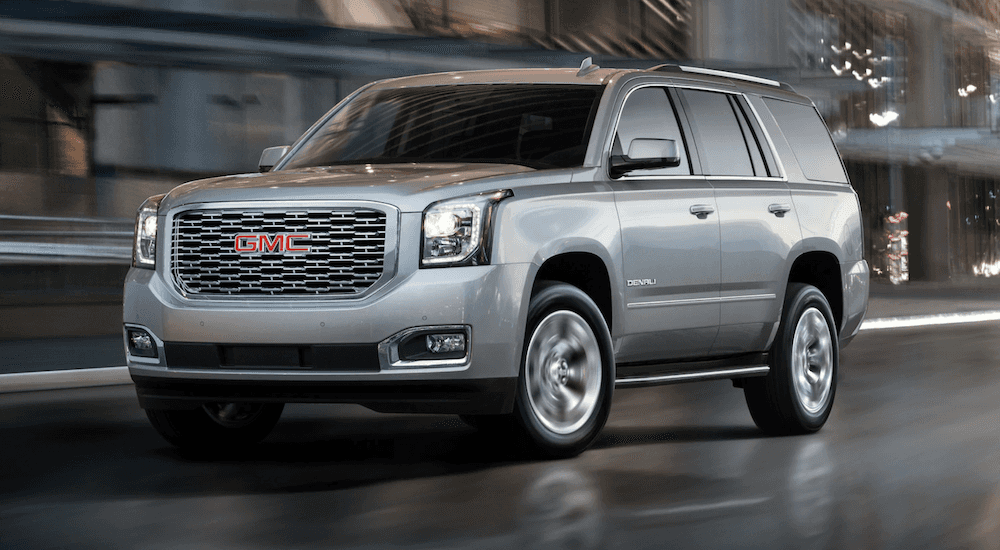 Have your eye on the stunning 2018 GMC Terrain? Or, maybe the powerful 2018 GMC Yukon? Either way, you'll want to find an experienced, trustworthy, and reputable dealer for GMC SUVs. From pre-purchase guidance to post-purchase maintenance, we're sure you'll be pleased with the service available at your local GMC dealer, Carl Black Roswell.
Why Choose Carl Black Roswell?
If it's finally time to purchase a new vehicle, it's also time to find yourself a reputable dealership. And at Carl Black Roswell, we strive to be exactly that. Our dealership is built on the values we adhere to for our customers and the passion we have for our Buick and GMC vehicles. But it goes much deeper than that. So, here are a few benefits you'll get to experience if you choose Carl Black Roswell.
Customer Service
When it comes to customer service, you won't find a better dealership than Carl Black Roswell. We pride ourselves on taking care of all aspects of our customer automotive needs. Want to purchase a new or used vehicle? We can help. Need to secure financing for your new vehicle? We've got it. Looking for trustworthy post-purchase repairs and maintenance? Look no further than the service center at Carl Black Roswell. From before you purchase your vehicle to well after, we'll be here to provide for all of your needs in a pleasant, efficient, and professional way.
Service Center
As mentioned above, we have an excellent service center ready to handle all of your vehicle maintenance and repair needs. Need to order new parts and/or accessories? With the service technicians at Carl Black Roswell, this is no problem. We will gladly assist you in ordering whatever parts you may need and then install them as efficiently as possible. The technicians at Carl Black Roswell are expertly trained to handle all of your automotive servicing needs.
Inventory
When you're shopping for new SUVs , or new-to-you, you want to be "wowed" by the available inventory of the dealership you visit. It's key to find a selection of high-quality, well-maintained vehicles. You'll also want vehicles that are transparently priced to avoid any unforeseen fees. And at our Buick and GMC dealership, you'll find all this and more. We are proud of our inventory and keep every vehicle in premium condition, whether it is new or used. Due to this pride and the dedication we have for our customers, we make sure that our pricing is easy to understand and we are upfront about any possible additional fees. If you're interested in driving off the lot with a high-quality GMC SUV , you'll want to see what we have on our at our dealership.
Top-Selling Buick Vehicles
Chances are if you're visiting a dealer you're interested in some of the most popular 2018 models are available. So, here is a sneak peak at the luxurious Encore, Envision, and Enclave.
Encore
As one of Buick's smaller SUVs, the 2018 Buick Encore packs a lot of luxury in its compact quarters. The Encore is also the most fuel efficient SUV on this list of Buick vehicles, offering up to 27 mpg city and 33 mpg highway. As the smaller choice, it has a lower starting MSRP of $22,990. This luxury SUV also comes with a variety of standard interior features including a leather wrapped steering wheel and power adjustable driver's seat. While available features include a heated steering wheel, leather upholstery, and a driver's seat with memory settings.
Envision
The 2018 Buick Envision is larger than the Encore, but is still considered a compact SUV and maintains satisfactory fuel efficiency at 22 mpg city and 29 mpg highway. For a luxury SUV, it offers a surprisingly fair MSRP starting at $33, 995 and gives drivers an abundance of standard and upgradable features. In fact, the 2018 Buick Envision even comes packed with standard entertainment features including an 8-inch touchscreen display, rearview camera, USB ports, Apple CarPlay and Android Auto, and even a WIFI hotspot.
Enclave
If you're looking for big, bold, and beautiful, you've found it in the 2018 Buick Enclave. In terms of available cargo space, the 2018 Buick Enclave offers nearly double what the Encore provides allowing for up to 97.6 cubic feet of space with the seats folded down. This beauty starts off with an MSRP of $39,995 and, of course, also comes with a variety of luxurious touches and entertainment features. Optional features include a 10-speaker Bose sound system, HD Radio, wireless charging, and a driver Safety Alert seat.
Top-Selling GMC Vehicles
If Buick isn't your best fit, GMC probably has what you're looking for in their impressive lineup of trucks and SUVs. Here are a few popular GMC vehicles we have available at Carl Black Roswell.
Sierra
The 2018 GMC Sierra 1500 is a light-duty pickup truck with incredibly powerful capabilities. With a max towing capacity of 9,300 LBS, this truck can get whatever job you need done with ease. Powering that towing capacity is up to 420 hp and 460 lb-ft torque. Even with this kind of performance, the 2018 GMC Sierra continues to impress when it comes to fuel efficiency, earning an estimated 18 mpg city and 24 mpg highway. And with a starting MSRP of $29,000, this is a tough truck to beat!
Terrain
The 2018 GMC Terrain is a compact SUV with some crowd-pleasing standard features including a 7-inch touchscreen display, USB ports, Bluetooth, a 4G LTE WIFI hotspot, and even Apple Carplay and Android Auto. Not only do these standard features rival that of others in its class, but even in terms of all types of 2018 vehicles, they are very impressive. All of this comes included at no extra cost with the 2018 GMC Terrain's starting MSRP of $24,995.
Yukon
The GMC Yukon, and its ever-coveted Denali trim, have been consumer favorites for years. And the 2018 GMC Yukon is no exception. This large SUV can seat up 8 passengers comfortably and, with the seats folded down, offers up to 94.7 cubic feet of cargo space. The 2018 GMC Yukon is also incredibly powerful and can tow up 8,400 LBS when properly equipped – that rivals the towing capacity of most light-duty pickup trucks! Drivers interested in what the 2018 GMC Yukon has to offer are looking at a starting MSRP of $49,100.
Choose Carl Black Roswell for Your Buick and GMC Needs!
No matter what you're looking for in a vehicle, you're likely to find it at your local Buick and GMC dealer, Carl Black Roswell. But more importantly, you'll also find unmatched customer service from a passionate and friendly staff. From the moment you step onto our lot to the moment you drive off in your new car, you'll be treated with the utmost respect and care. Our helpful sales staff is eager to take care of your every automotive need and will get you started on the path of finding your perfect fit in a vehicle. So, whether you're interested in the tough and rugged 2018 GMC Sierra or the small, sleek, and luxurious 2018 Buick Encore, come visit Carl Black Roswell today! We have the inventory, experience, and passion you're looking for in a Buick and GMC dealer.