2020 GMC Lineup Max Towing Capacities

When it comes to the GMC lineup, it's packed full of outstanding utility vehicles and pickup trucks designed for the purpose of getting the job done, whatever that job might be. That means that a lot of people who purchase GMC vehicles are looking to be able to haul a lot behind their truck or SUV in a trailer of some sort. Being such a crucial specification, we thought we'd highlight the max towing capacities of the entire 2020 GMC lineup in one place so that you can compare them right next to each other.
[ SHOP NOW: New GMC Vehicle Inventory ]
| | |
| --- | --- |
| Model | Max Towing Capacity |
| Terrain | 3,500 lbs. |
| Acadia | 4,000 lbs. |
| Canyon | 7,700 lbs. |
| Canyon Denali | 7,600 lbs. |
| Yukon | 8,500 lbs. |
| Yukon XL | 8,500 lbs. |
| Yukon Denali | 8,400 lbs. |
| Yukon XL Denali | 8,400 lbs. |
| Sierra 1500 Limited | 9,400 lbs. |
| Sierra 1500 | 12,100 lbs. |
| Sierra Denali | 9,600 lbs. |
| Sierra Heavy Duty | 35,500 lbs. |
| Sierra Denali HD | 31,180 lbs. |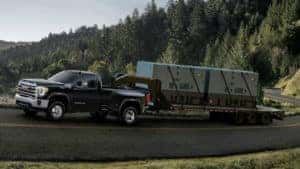 As we're sure you're already aware, GMC vehicles belong to three major categories: trucks, SUVs and crossovers. Every member of the GMC lineup also has its own Denali trim level, which represents the very top-of-the-line. These vehicles are more luxurious and packed full of premium content than their counterparts. The table above highlights every model on the lineup – if you don't see a model's corresponding Denali trim listed, that means its max towing capacity is the same.
If you're in the market for a crossover, you can look at the Terrain and Acadia models. These two are more meant for people moving and comfort than hauling behind, as you can see by their lower max capacities. The Yukon and Yukon XL are both traditional SUVs, making a big step up in the towing capacity game. The rest of the vehicles are trucks, increasing in size proportionately to their towing capacities – though, as you may have noticed, the Denali trim levels are slightly less capable than their counterparts.
If you have any questions about trailering or our models' towing capacities, don't hesitate to give us a call right here at the sales desk, we'd be happy to help!