What are the 2020 Buick Encore GX safety features?

The Buick Encore is back for 2020! Now it has a new GX model to freshen things up a bit. We couldn't be more thrilled to see this small crossover SUV joining the 2020 Buick ranks here in the U.S. But it isn't just about the luxury and convenience of this model. The Encore GX also has some nifty safety features that make it an ideal vehicle for families and individuals alike. Let's take a look at what these safety features are.
How safe is the 2020 Buick Encore?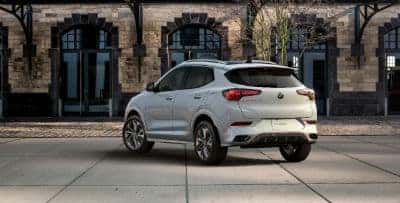 You'll see plenty of standard and optional safety features in the 2020 Buick Encore GX. These features include:
Lane Keep Assist. This feature helps you stay centered in your lane. If you find your attention wavering, you can accidentally drift in your lane. The Lane Keep Assist has the potential to help you stay more alert to the position your vehicle is in when driving in your lane.
Lane Departure Warning. This is part of the Lane Keep Assist feature. As you might imagine, the Lane Departure Warning lets you know if your vehicle is leaving the lane you are in. Since it only goes off if you don't have your turn signal on, it can also serve as a great reminder to those who may frequently forget to signal their intentions.
Forward Collision Alert. This safety feature lets you know if you're getting too close to a vehicle in front of you or if it senses the potential for a collision.
Front Pedestrian Braking. While we have the power to control our actions, we can't control that of others. It isn't uncommon to have to stop suddenly for pedestrians you hadn't seen before. This feature can potentially help alert you and help you brake for people in front of your vehicle.
Rear Camera Mirror & High Definition Surround Vision. It is difficult to see properly when backing up a vehicle and this is made doubly as difficult with a larger vehicle such as an SUV. So, the Rear camera Mirror and High Definition Surround Vision helps give you greater visibility of your vehicle surroundings.
It's important to note that these features aren't infallible, but they can go a long way to help improve your awareness of the driving situations, and thereby can potentially help you take preventative actions.
Read more: 2019 Buick Envision Towing and Storage Capacity
When will the 2020 Buick Encore come to Roswell, GA?
This luxury model delivers a tight performance that has the crowd shouting for an Encore. You'll be able to find it here in Roswell, but not for a while. We are expecting the release date of the Encore GX to land around early 2020, so perhaps late winter or early spring.
If you have any questions please don't hesitate to contact your favorite Buick and GMC dealer here in Roswell, GA! Our knowledgeable team here at Carl Black of Roswell would love to tell you more about your new luxury model, and you can come on over to test drive whatever Buick or GMC has caught your interest.