2019 GMC Sierra 2500 HD

Starting at
$38,200
2019 Nissan Titan XD

Starting at
$32,890
| | | |
| --- | --- | --- |
| Up to 445 HP | Horsepower | Up to 310 HP |
| Up to 445 lb-ft | Torque | Up to 555 lb-ft |
| 13,000 LBS | Towing Capacity | 11,960 LBS |
Roaring load and staying proud, the 2019 GMC Sierra 2500 HD and 2019 Nissan Titan XD are top-rated trucks that have just as much passion as they do prowess. Looking at the 2019 GMC Sierra 2500 HD vs 2019 Nissan Titan XD shows us that both of these heavy-duty trucks never fail to impress as they take on any terrain and will make sure even the toughest of jobs get done. That being said, with big power comes big responsibility, and the choice of which one will suit you best is certainly no easy matter.
The 2019 GMC Sierra 2500 HD is the large and in charge version of the 2019 GMC Sierra light-duty truck. GMC is a proud manufacturer that specializes in larger vehicles such as SUVs and trucks, and so they are experts when it comes to knowing what counts when it comes to vehicles in this class. Basically, those that already are fans of GMC's work will instantly fall in love with what this model has to offer. The 2019 Sierra 2500 is bold and brilliant as it takes trucks to a whole new level of luxury. So those looking to feel like the king of the road, this is the model for you.
The 2019 Nissan Titan is not nearly as physically or statically more intimidating when compared to what the 2019 Sierra 2500 has to offer. When it comes to horsepower, torque, and towing potential the numbers clearly show that this truck takes a back seat to others of its class. The only major plus for this model is that it is cheaper and has an aesthetic that is less bold for those looking for something a bit more on the unique side for this class of truck.
The choice for this battle should be fairly straightforward for anyone who knows GMC or wants a vehicle they can truly get the most potential out of when it comes to both refinement and boldness. While the 2019 Nissan Titan may be a gem for some, the 2019 GMC Sierra 2500 HD is just something that is too impressive for anyone to deny.
Appearance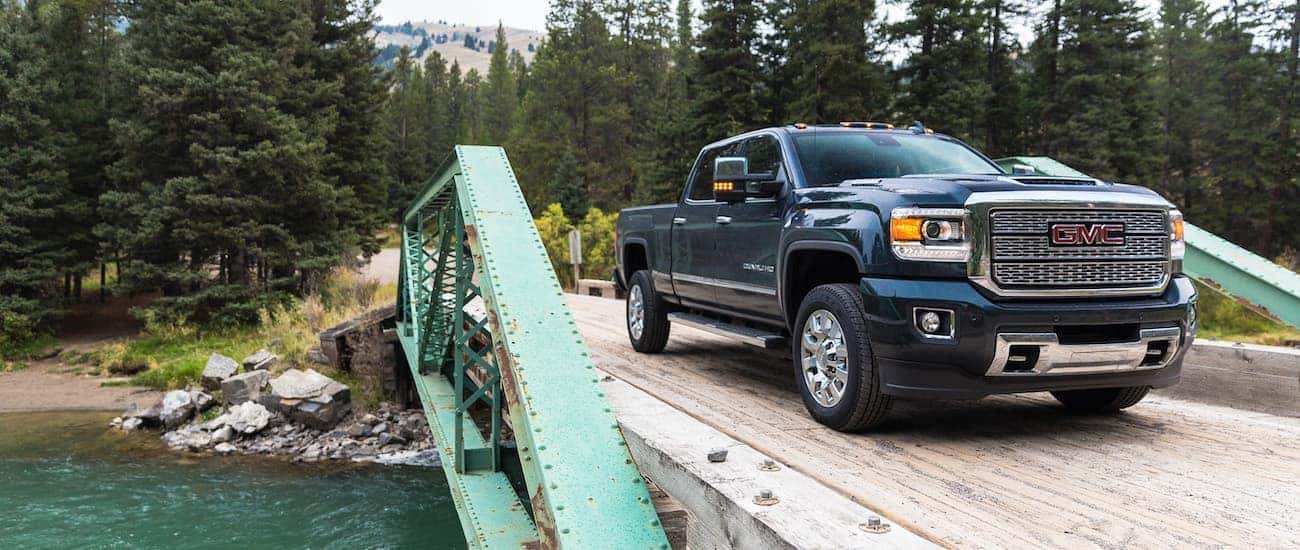 2019 GMC Sierra 2500 HD
When it comes to turning heads, no vehicle does it better than the 2019 GMC Sierra 2500 HD. As a heavy duty truck making an impression is not only a desire, it's a necessity, so the appearance of this model is a key aspect of deciding if it is up to your standards, and with boldness and refinement to spare, it should easily blow away all of your expectations.
Measuring to be 224-258″ L x 80-81″ W x 78″ H it's almost impossible for anyone to miss this model, but it's the details that truly make it something you won't want to miss. Manufactured with high-grade steel, this mode was designed for high-strength looks and durability. The most noticeable exterior features will, but the massive front grille is sporting the GMC logo and the two large headlights on either side of it. There is also the massive side view mirrors that are essential for keeping strong visual prowess of the road. Overall this is a model was designed with equal amounts of charm and practicality.
On top of charm and practicality, the 2019 GMC Sierra 2500 also has personality and a big one at that. Intimating but with a sense of refinement, this heavy-duty trucks seems as though it was made to be royalty on the road. Everything about it screams dignified authority, and those who get behind the wheel can easily feel that same sense of luxurious confidence.
2019 Nissan Titan XD
The appearance of the 2019 Nissan Titan XD is fairly straightforward with some very nice modern overtones that give it a nice sense of edge. The front grille connects seamlessly to the headlights in one large piece that curves up giving the front a very rounded design opposed to the traditional box that most trucks of this class go for. Like most models in its class though, it offers a number of configurations options that can change its overall looks.
There is the single cab with one full door on each side, the king cab with one and a half doors on each side for limited rear space in the cabin, and the crew cab with two full-doors on each side for the full cabin experience and making it the largest option of the three. These cab sizes will mostly impact the cabin space and overall size, but even a few inches can make a big difference on the impression this heavy-duty truck will make while on the road.
The overall personality and appearance of the 2019 Nissan Titan XD is an interesting mix of modernization and strength that will certainly appeal to many drivers.
Performance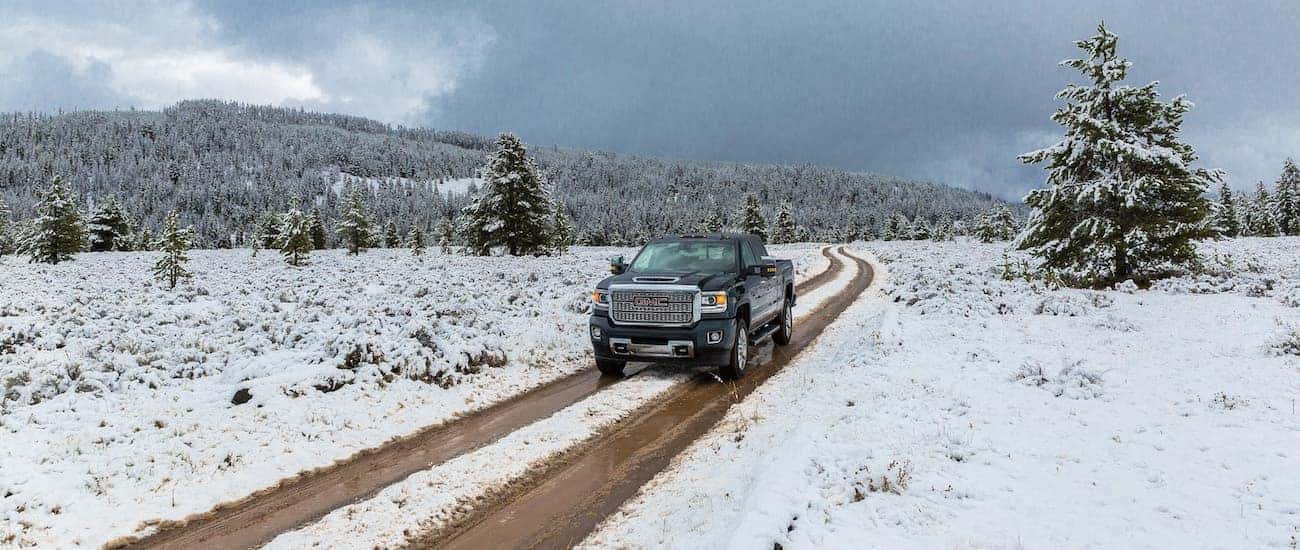 2019 GMC Sierra 2500 HD
A heavy-duty truck is nothing if it can't outperform the best, and the 2019 Sierra 2500 HD is without question one of the best when it comes to performance potential. The standard engine you will find with the lower trim level of this model is a 6.0L V8 that delivers a reliable 360 hp and 380 lb-ft of torque. This option is paired with a 6-speed automatic transmission and is extremely impressive for being the more affordable of the two possible powertrains. The second options for the higher trim levels is a 6.6L turbo-diesel V8 that roars with 445 hp and 910 lb-ft of torque. This option has a lot to offer from a max towing potential of 13,000 pounds to an impressive amount of fuel efficiency, due to the type of fuel, while also being paired with an advanced Allison 6-speed automatic transmission. While this choice will generally cost almost $10,000 more, it just may be worth it for bringing out the true potential of the 2019 Sierra 2500.
2019 Nissan Titan XD
When it comes to power the 2019 Nissan Titan XD there are two main engine options that will have to be able to handle a lot of heavy lifting to efficiently keep a truck of this size on and off the road. The first engine option is a 5.5L gas V8 engine which uses direct-injection. This option provides 390 hp and 401 lb-ft of torque for a fairly sporty driving experience. The other option is a 5.0L turbo diesel V8 engine the delivers 310 hp and 555 lb-ft of torque with all the fuel and cost efficiency that comes with using diesel fuel. This is also the engine that will grant drivers the max towing potential of 11,960 pounds. The gas engine is paired with an 8-speed automatic transmission while the diesel option is paired with a 6-speed automatic transmission. While this model also offers two engines of two different fuel types, the 2019 Sierra 2500 manages to take the win when it comes to its larger than life diesel option. Overall, this truck is no pushover, but it's also not the best option on the market when it comes to performance.
Features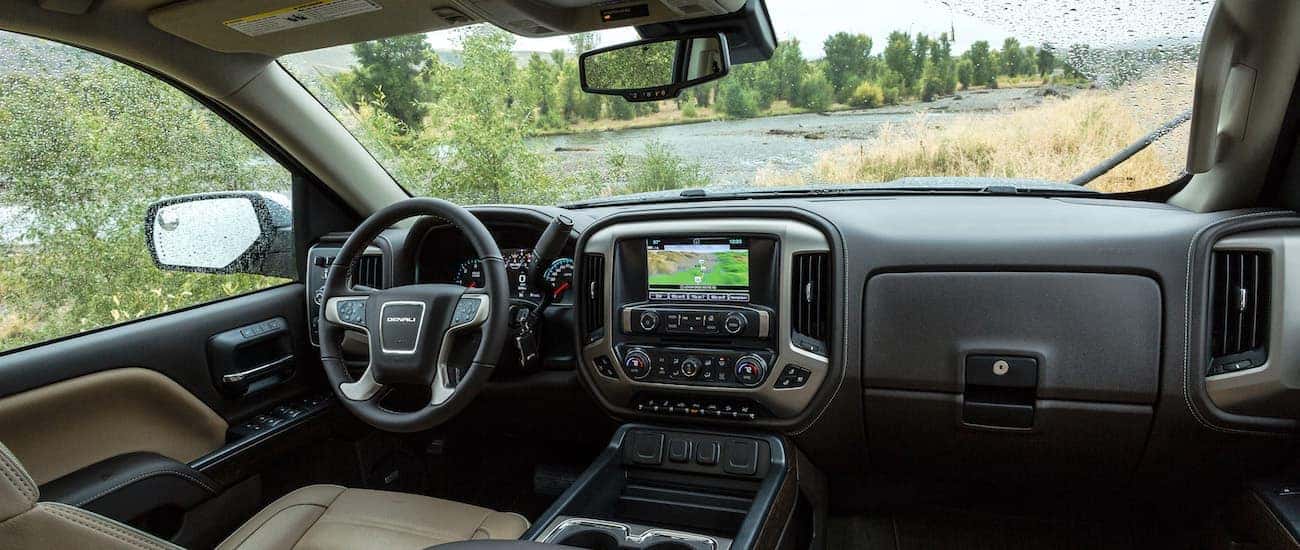 Simply because a truck is big and bold doesn't mean it can't also be brilliant and luxurious. While the 2019 GMC Sierra 2500 HD leans more towards the luxurious accommodations that make you feel like royalty on the road, the 2019 Nissan Titan XD enjoys its modern flair with technical brilliance. That being said, both of these heavy-duty trucks manage to deliver a list of features that will change all your preconceived notions of what is possible for this class.
As far as similarities go, both the 2019 GMC Sierra 2500 HD and the 2019 Nissan Titan XD have an intelligence touch-screen infotainment system that basically controls all the tech features easily from the cabin. These infotainment systems may be for each brand separately, but both allow drivers to link their smartphones, monitor the road for safety risks with advanced safety options, and all kinds of other fun and useful features that will keep you feeling entertained, safe, and comfortable the entire ride. Speaking of comfort, each of these models offers their own list of cabin comforts such as climate control and plush heated leather seating that can make even large trucks like these feel like a throne.
Basically speaking, these two models both offer a strong list of very similar safety, entertainment, and comfort features that vary depending on your trim of choice. Neither is really inferior, but if features are truly your main appeal, the 2019 GMC Sierra 2500 HD has always impressed its fans when it comes to its ability to keep the cabin as classy as possible.