Electric vehicles in Roswell, GA

Here at Carl Black Roswell in Roswell, GA, we offer new GMC and Buick models along with a wide selection of pre-owned vehicles. What does that mean for those of you looking for an electric vehicle in Roswell? Well, you will be able to find electric GMC and Buick models here as more models roll out. You'll also be able to find electric pre-owned vehicles from a variety of manufacturers. 
What electric vehicles are offered by GMC and Buick? GMC has recently come out with the GMC Hummer EV pickup truck, the GMC Hummer EV SUV, and the upcoming GMC Sierra EV truck. All of these models are one hundred percent electric. As of the time of this writing, Buick does not offer an electric vehicle, but we expect to see one soon. The parent company, GM, has stated that it plans to come out with more electric vehicles in the next five years. Keep reading below to learn why you should consider switching to electric. 
---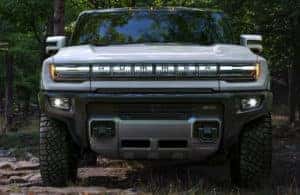 ---
Electric vehicles are available here at Carl Black Roswell in Roswell, GA
What are the benefits of driving an electric vehicle in Roswell, GA? Well, Roswell, just like the rest of the world, would benefit from fewer vehicle emissions, which is one big goal of automakers that are switching from gas-powered vehicles to electric vehicles. So, you could help begin the change, and set an example for others who are on the fence. 
Other than protecting our environment, electric vehicles come with some very real benefits to their drivers. The biggest of these is that you can charge your vehicle at home using a simple wall outlet. For you, this means a lot of saved time and effort. You can plug your vehicle in overnight and wake up to a fully charged vehicle, one that can easily handle your daily commute without stopping at a gas station or other public charging station. This also means that you'll save money on fuel over time, as electricity tends to be less expensive than gasoline. Trust us, you'll be happy that you made the change. 
---
Click here to view our inventory
---