2022 Buick Encore Roswell, GA

Starting at just $24,600, the 2022 Buick Encore is a luxury SUV that seats up to five passengers. This small SUV offers the possibility of great fuel savings with its fuel economy rating of 24 mpg in the city and 32 mpg on the highway. Although it is a small SUV, the 2022 Buick Encore still offers much in the way of cargo, with a maximum capacity of 48.4 cubic feet in its rear cargo space. Compared with other vehicle body styles such as sedans or compact cars, this model has ample cargo space. You can easily fit everyone's overnight bags and snacks in the rear cargo space.  
We've covered some of the basics for the 2022 Buick Encore so far. Below, we'll go into more detail on specific features offered by this model. The 2022 Buick Encore is available here at Carl Black Roswell, and our team would love to give you a tour or a test drive. 
---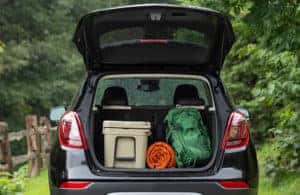 ---
The 2022 Buick Encore is available here at Carl Black Roswell in Roswell, GA
The 2022 Buick Encore is a small SUV with a big view. Whether you're inside or outside the 2022 Buick Encore, you'll notice the available power moonroof, which provides breathtaking views of the sky above. It is also a great way to get some more fresh air filtering through your vehicle, and some people prefer using it over opening a window for air because it provides a less direct stream of outside air for passengers to enjoy. 
Opening the moonroof instead of a window can also be quieter, although the best way to enjoy peaceful quiet is to keep all windows shut as you drive. Not only will that reduce wind noise, but the windshield features acoustic laminated glass to absorb unwanted noise from the front of the vehicle, where the air will strike first as you drive forward. The doors of the 2022 Buick Encore also do their part to ensure silence, because they have triple door seals, another feature that is part of the Buick QuietTuning ™ technologies on the 2022 Buick Encore.  
---
View our Buick Encore inventory
---