2020 GMC Sierra 2500HD vs 3500HD

A lot of the time, we just throw several different trucks under one umbrella term, and if you're not a truck aficionado to begin with you might not realize it. We refer to quite a few different trucks as being a part of the 2020 GMC Sierra HD nameplate, with the most prominent being the 2500HD and 3500HD. These are full-size heavy-duty trucks, where as the Sierra 1500 is a full-size light-duty truck. We thought we'd go over what sets the two trucks apart in this side-by-side comparison.
---
---
| 2020 GMC Sierra 2500HD | Vs | 2020 GMC Sierra 3500HD |
| --- | --- | --- |
| 401 HP/464 lb-ft. | Power Ratings | 401 HP/464 lb-ft. |
| 3,862 lbs. | Max Payload | 6,610 lbs. |
| 14,500 lbs. | Max Conventional Trailering | 16,300 lbs. |
| 16,700 lbs. | Max 5th Wheel Trailering | 16,100 lbs. |
What sets the Sierra HD models apart?
In the comparison above, we looked at the Sierra 2500HD Crew Cab Long Bed 4WD equipped with the 6.6L V8 engine on the left side and the Sierra 3500HD Crew Cab Long Bed 4WD Dual Rear Wheel with the 6.6L V8 engine on the right. So, the main physical difference between these two trucks in specific, is that the 3500HD has a dual rear wheel. The 3500HD is available without this feature, but adding the dual rear wheel means your truck will have four wheels on the rear axle instead of the typical two, increasing your capabilities. That becomes evident in the table above, which showcases that despite the fact these two trucks are powered by the same engine with the same power ratings, they have vastly different capabilities. The 2500HD truck bed can accommodate up to 3,862 pounds of weight, while the 3500HD comes rather close to doubling that with a max payload of 6,610 lbs. When it comes to trailering, the Sierra 2500HD can haul up to 14,500 lbs. conventionally or 16,700 lbs. with 5th-wheel trailering. The 3500HD has superior conventional trailering, nearly accommodating an extra 2,000 pounds, while its 5th-wheel trailering actually dips a bit.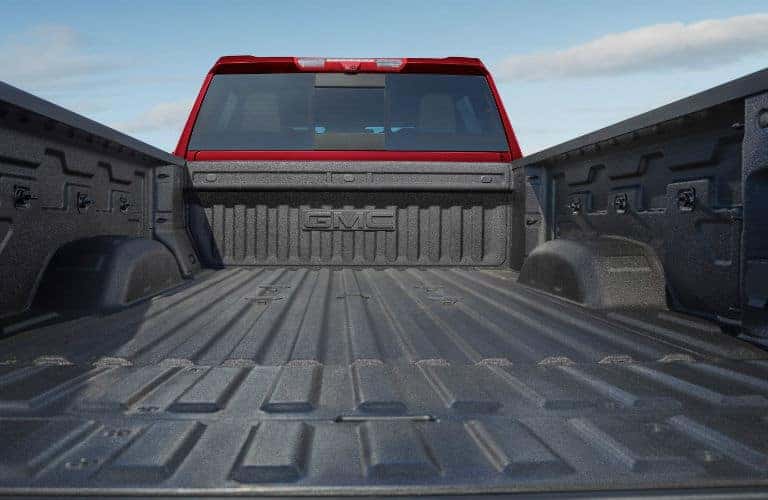 If you're interested in learning more about what these two heavy-duty pickup trucks have to offer, don't hesitate to reach out to us right here at Carl Black Roswell!
---