2020 GMC Sierra 1500 vs 2020 RAM 1500

When it comes to full-size, light-duty pickup trucks on the American marketplace, many people often look to the "big three," but in recent years at least one pickup truck has begun to disrupt those three juggernauts, and that's the 2020 GMC Sierra 1500. We thought we'd see how it measures up to one of those big three trucks by comparing it to the 2020 RAM 1500.
---
---
| 2020 GMC Sierra 1500 | Vs | 2020 RAM 1500 |
| --- | --- | --- |
| 310 HP | Horsepower | 305 HP |
| 20 mpg | Combined Fuel Efficiency | 20 mpg |
| 2,280 lbs. | Max Payload | 2,302 lbs. |
| 9,800 lbs. | Max Towing Capacity | 7,730 lbs. |
Advantages of the 2020 Sierra 1500
Both of these pickup trucks make excellent options for truck enthusiasts and those working the jobsite alike, but each one has its clear advantages. Let's work our way through the table to show you. We started off looking at power in the first row, an area in which the Sierra obviously has a leg up on the RAM, but it's not a very big one. Five horsepower would hardly be noticeable, especially between two pickup trucks like these.
The second row is even more similar, as both pickups achieve 20 miles per gallon combined fuel economy. However, although it's not shown here, the Sierra 1500 does deliver superior city economy while the RAM 1500 is better on the highway, by two mpg on both sides.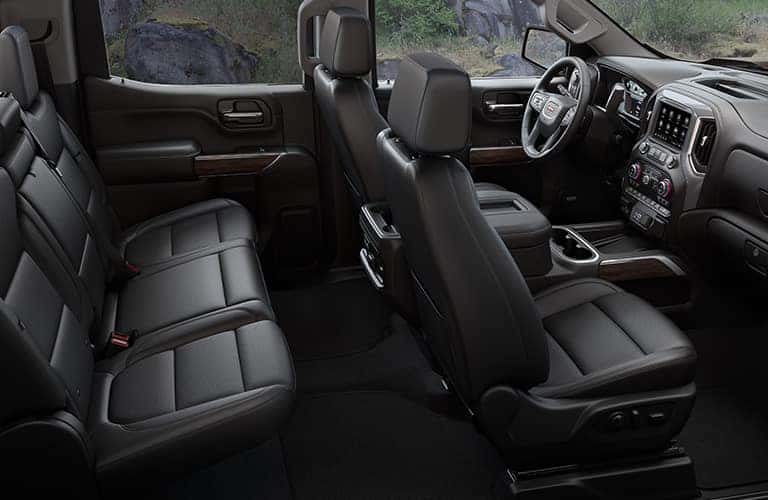 When it comes to capabilities though, we see the advantages shine. The RAM 1500 has a slightly more capable truck bed, as certain trims can accommodate up to 22 pounds more weight in its bed than the strongest instances of the Sierra 1500. As for max towing, the Sierra trumps the RAM by offering certain trims that can haul 2,070 pounds more weight.
If that has you leaning towards the 2020 GMC Sierra 1500, don't hesitate to give us a call today!
---