2020 Buick Envision vs 2020 Honda CR-V

The compact crossover segment is booming in today's automotive market as utility vehicles continue to rise in popularity across the industry. We thought we'd see how our entry into the segment compares to what many consider the #1 vehicle in the class, by pitting the 2020 Buick Envision against the 2020 Honda CR-V. Check out the table below to see how some of their important specifications compare to one another, then keep reading for further analysis.
---
---
| 2020 Buick Envision | Vs | 2020 Honda CR-V |
| --- | --- | --- |
| 197 HP | Horsepower | 190 HP |
| 25 mpg | Combined Fuel Efficiency | 29 mpg |
| 26.9 cu. ft. | Cargo Capacity | 39.2 cu. ft. |
| 5 | Seating | 5 |
Advantages of the 2020 Envision
As you can see from one glance at the table above, there is certainly a reason the Honda CR-V is so highly lauded. In the first row, we took a look at power, one area in which the Buick model's specs do surpass the CR-V. Unfortunately, 7 horsepower isn't going to be a very noticeable difference if you were to drive these vehicles back to back. An advantage you might notice a bit more is the fact that the CR-V achieves 4 extra miles per gallon across city and highway driving combined and offers 12.3 cubic feet of extra cargo space behind the rear seats.
However, these specifications aren't everything. If you can look past the slight deficits in fuel economy and space, then you might realize the Buick Envision is a luxury vehicle while the Honda CR-V is not. That means you'll have far more luxury features available to you inside the Envision, including premium technologies and advanced safety features that will make each time you slide behind the wheel more enjoyable for you and your passengers.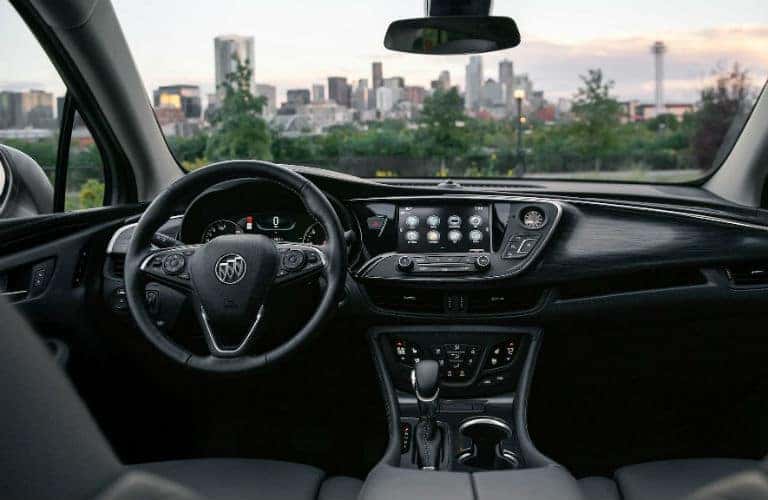 If you think you might be interested in a 2020 Buick Envision of your own, be sure to reach out to us right here at Carl Black Roswell!
---