Will GMC participate in the inaugural Extreme E season in 2021?

Obviously, we're pretty excited about the upcoming 2022 GMC HUMMER EV. We've been talking about it pretty much non-stop since its official unveiling a few months ago. It's an exciting vehicle and should bring a lot of changes not just to the GMC lineup but to the automotive industry as a whole. Something else that's trying to do that is the Extreme E series, an incredible new motorsport series consisting only of electric-vehicle participants. So, will GMC be participating in the inaugural season throughout 2021? You bet.
[ READ MORE: about the 2022 GMC HUMMER EV ]
"I can't think of a better fit than showcasing the look of GMC's HUMMER EV in Extreme E with Chip Ganassi Racing. Both GMC HUMMER EV and the Extreme E series are designed to be revolutionary – to challenge perceptions of electric vehicles and to showcase their true capability."

– Jim Campbell, Vice President of Performance & Motorsports, General Motors U.S.
"It's truly an honor to represent GMC, especially during such an exciting time in auto racing. The new GMC HUMMER EV is going to be a game changer in terms of how the world views off-road EV capability, and we couldn't be more proud to represent GMC in such an innovative new series."

– Chip Ganassi, Owner, Chip Ganassi Racing
When are the races?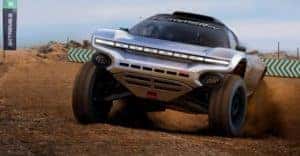 The inaugural season of Extreme E will consist of five races to determine the winner of the global championship. Each race will take place in one of the most remote locations in the world, and is sure to change a lot of people's minds about electric vehicles. The five races will take place in the following locations:
Desert X Prix in AlUla, Saudi Arabia from April 3-4th
Ocean X Prix in Lac Rose, Senegal from May 29-30th
Arctic X Prix in Kangerlussuaq, Greenland from August 28-29th
Amazon X Prix in Para, Brazil from October 23-24th
Glacier X Prix in Patagonia, Argentina from December 11-12th
We're excited to see the results of the races, and even more excited to see the unique electric vehicle CGR has built taking inspiration from the 2022 GMC HUMMER EV, with its 550-horsepower electric powertrain and unique exterior design.