Sneak Peek at the 2022 Buick Enclave

We've officially gotten our first sneak peek at the upcoming 2022 Buick Enclave, which will be undergoing a mid-generation facelift for the upcoming model year. The newest iteration of the 7-passenger premium SUV – the brand's flagship vehicle – doesn't currently have a specific release date but will be available sometime this calendar year. At this time, details are scarce about what will be different in the model. But the images give us a good idea of how the design has been enhanced with "a more modern, expressive design."
[ SHOP NOW: Current Buick Enclave Vehicle Inventory ]
Now that the 2021 Buick Envision has arrived here at Carl Black Roswell, the entire Buick lineup has been made available for 2021. But that doesn't mean we're not already getting excited for the next model year. With this sneak peek at the 2022 Buick Enclave, we're already back to the edge of our seat, and can't wait for more information once it becomes available. Until then, we'll just go over what we noticed from the sneak peek.
What's new in the 2022 Buick Enclave design?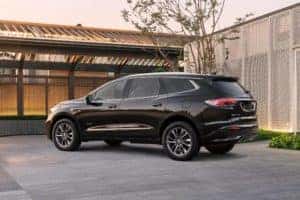 Compared to the current Buick Enclave, the 2022 model appears to have finally been given the presence it deserves courtesy of completely redesigned front and rear ends. Up front, the new Buick grille returns, as does the horizontal line that runs through it, but just about everything else has been updated. Sleeker, better-hidden headlamps are perhaps the most eye-catching, but the entire lower fascia gives the Enclave a more sophisticated look. In back, similar updates were made to the taillights and rear fascia, creating a total package we can definitely get behind (and more importantly inside!).
Be sure to check back on our blog often for further updates about the upcoming 2022 Buick Enclave, we cannot wait for it to arrive!