2022 Buick Encore GX ST Roswell, GA

The 2022 Buick Encore GX ST has a starting MSRP of $26,990. Below, you can learn about some of the best features of the 2022 Buick Encore GX ST including its fuel economy rating and integrated roof rails. Let our team know if you have any questions about the 2022 Buick Encore GX ST. Find Buick Encore models here at Carl Black Roswell in Roswell, GA. 
---
2022 Buick Encore GX ST fuel economy
How fuel-efficient is the 2022 Buick Encore GX ST? The 2022 Buick Encore GX ST is rated at 29 mpg in the city and 32 mpg on the highway. That's pretty good, especially for an SUV. If you compare it to your current SUV, we bet that you could be saving some fuel by making the switch. In fact, sedans, which are generally more fuel-efficient because of their small size, often have fuel economy ratings in the upper twenties and low thirties. 
What are the benefits of improving your fuel economy? Well, imagine that you could spend less money to drive further. That's essentially what an improved fuel economy does for you. It helps you save fuel and stretch your penny further. Environmentalists also enjoy fuel-efficient vehicles for their lowered carbon footprint, because they tend to have fewer emissions. 
---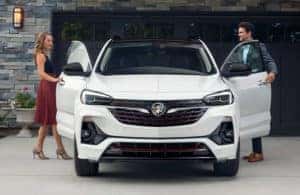 ---
2022 Buick Encore GX ST roof rails
What's the best feature of the 2022 Buick Encore GX ST? Well, you could probably make a strong case for many of its features, but we will go with its standard integrated roof rails, which make it easy to attach accessories and carry important items on your vehicle's roof. Having standard roof rails is a huge plus for this model because many models make you pay extra for this feature. 
Things that you might use its roof rails for include carrying bikes, transporting kayaks, and storing winter gear like snowboards. There are available dealer-installed accessories to carry a number of specific sporting items, as well as more general accessories to carry a variety of objects. Whatever the case, the roof rails help free up room inside your 2022 Buick Encore GX ST. 
---
Click here to view our Buick Encore GX inventory
---